Muslim Community Hosts Blood Drive on Capitol Hill to Pay Homage to 9/11 Victims
Muslim Community Hosts Blood Drive on Capitol Hill to Pay Homage to 9/11 Victims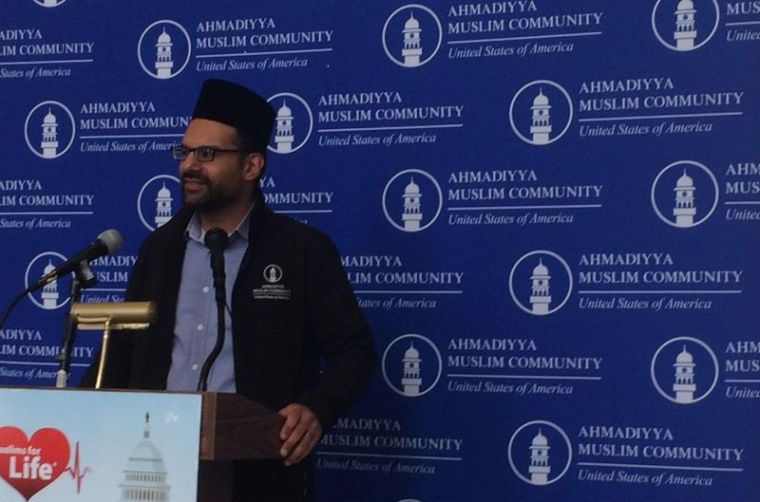 WASHINGTON — A community of self-described "revivalist" Muslims is hosting an annual blood drive on the anniversary of 9/11 to demonstrate the opposite of what was done in the name of their faith 17 years ago.
In the foyer of the Rayburn House office building on Capitol Hill Tuesday, the Ahmadiyya Muslim Community set up several stations where donors can give blood, in cooperation with the Red Cross. They have been dong this for several years as a way of paying homage to the victims of the 9/11 attacks.
"We believe that life is sacred, and that all life is sacred regardless of being Christian or Jew or atheist or Hindu or Muslim. And that on 9/11 when those terrorists hijacked those planes and attacked those buildings and killed 2,996 people ... we believe that according to the Quran that it was as if they committed genocide [almost] 3,000 times," said Hammad Ahmad, imam of the Ahmadiyya Muslim Community in Washington, D.C., in an interview with The Christian Post.
"And so to contrast with that saving even one life is equal to saving all of mankind. So if those terrorists shed blood to destroy and to cause death and chaos, then every year on 9/11 and even beyond that, we will then peacefully and lovingly give our blood in order to save lives. Because each time we give blood, each time we save a life we believe we are saving humanity."
Over the last seven to eight years, they have raised enough blood to save 180,000 lives, he said, adding that "what [the terrorists] did was condemnable by the Quran, by Islam, and by the Ahmadiyya Muslim community, and we will now send a more powerful message by giving our blood."
The Ahmadiyya Muslim Community was founded in 1889 and they are distinct from other Muslims in that they are the only Islamic organization to believe that the long-awaited Messiah has come in the person of Mirza Ghulam Ahmad of Qadian, who was born in 1835, a man they say was sent by God to end religious wars, condemn bloodshed, and reinstitute morality, peace and justice.
Mirza Ghulam Ahmad of Qadian taught that jihad was not to fight a holy war, that Islam is a religion that means peace, tolerance, love and compassion and unity of all mankind, Ahmad explained to CP.
"His mission was to revive these truly inherent and moderate teachings of Islam to establish the truth of his claim and also to unite all of mankind in this way."
Johnnie Moore, who sits on President Trump's evangelical advisory board and is now a commissioner on the United States Commission on International Religious Freedom, spoke at a press conference in praise of the event Tuesday and pointed out in a CP interview that these acts of solidarity by this Muslim community are so important because they undermine the larger aims of violent extremists.
"One of the chief goals of terrorists was and has always been to divide Christians and Muslims. They want to fuel this narrative about it being a holy war, rooted in the history of the Crusades. But every Muslim who doesn't agree with them is a heretic," Moore told CP.
"And the fact is more Muslims have died at the hands of terrorists than Christians or Americans [have]. That's a fact. So when those from within the community make a gesture, profound as this one is, or around the world, when interfaith leaders come together — Christians, Jews, Muslims, and others — these meetings and statements are the solution. Every act of solidarity like this, that's how you kill this extreme ideology."
For religious leaders interested in winning the ideological battle, standing together in solidarity across faith traditions is how it will be done, he added.
"And by the way, this is not saying that anyone has to lay down their theology, but in a spirit of religious freedom saying: we oppose extremism."
The blood drive is a particularly powerful statement, Moore continued, "because there is something profoundly meaningful of giving one's blood to help someone, because it's one's very life."
"And it is the most nondiscriminatory action you could possibly do, a selfless act. I don't know who is going to receive my 'Christian' blood. Is it going to be a Muslim, an atheist? Likewise, I don't know who is going to receive my Republican or Democratic blood."
"And it's a statement of giving life on a day that recalls so much death and terror in American history."
Ibrahim Ijaz, who coordinated the Muslims for Life blood drive and is the director of engagement for The Peace Project, told CP "that the motto of the Ahmadiyya Muslim community is 'love for all, hatred for none.'"
Their community is open and is intentionally reaching out with this blood drive campaign to work to break down stereotypes to engage society, beyond the Muslim world.
In several countries, the Ahmadiyya face persecution even from other Muslims; many Pakistanis are Ahmadiyya, Ijaz explained, but in Pakistan it is against the law to declare oneself a Muslim if they are part of their community.
"We face a lot of persecution abroad, but we are blessed to be in the United States of America. We're blessed to be in a country that champions concepts like international religious freedom, human rights for all. And we're blessed to be able to work with our country's leaders on those topics."