'American Idol' contestant reacts to Katy Perry 'mom shaming' ex-church singer: 'Embarrassing'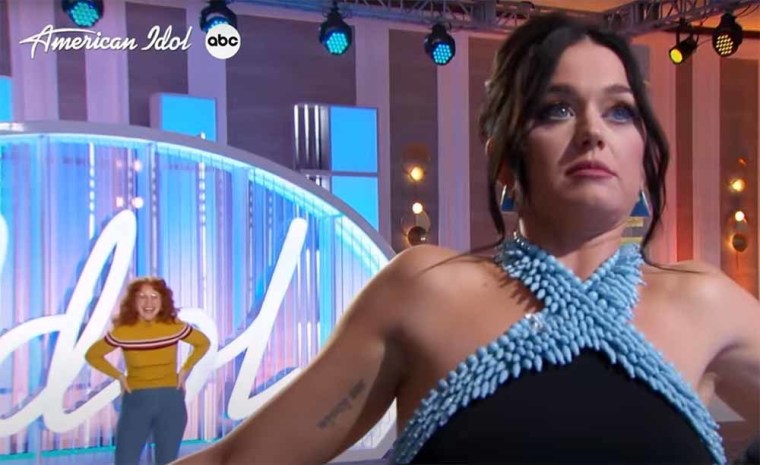 An "American Idol" contestant is responding to allegations that a judge on the show engaged in "mom shaming" at her expense, characterizing the comments in question as "hurtful" and "embarrassing."
Sara Beth Liebe, a 25-year-old mother of three and former church singer who auditioned on the reality TV singing competition, responded to allegations that judge Katy Perry "mom shamed" her in a March 8 TikTok video.
"At the start of my audition before I sang, I mentioned that I had three children and was a young mother," she recalled.
As Perry and the other judges expressed disbelief at the idea that Liebe was actually 25 and not a teenager, Liebe revealed herself as a mother of three at the beginning of her audition. This prompted Perry to get up out of her seat and motion as if she was going to fall down onto the table as a result of shock.
"If Katy lays on the table, I think I'm going to pass out," Liebe said during her audition, which aired on the March 5 episode of the long-running reality TV series. Perry responded by telling Liebe, "Honey, you've been laying on the table too much," referring to the fact that she had given birth three times. 
After describing Perry's "joke" as not "super kind" in her TikTok video, Liebe insisted that "I don't really have too much to say on my feelings about it because I feel like it's probably pretty self-explanatory."
She seemed to agree with the characterization of Perry's comment as "mom shaming," proclaiming that "it was embarrassing to have that on TV and it was hurtful" in addition to deriding "mom shaming" as "super lame."
"I think that it's hard enough to be a mom and it's hard enough to be a woman, and I also wanted to take this opportunity to say that I see all of the young moms and just moms in general who have commented on all of the videos and posts and everything and I just wanted to say that I see you and I hear you and I am grateful for you," she added.
Liebe urged moms to "keep loving your babies," adding "nobody deserves to feel crappy about that."  
Later in Liebe's audition, Perry asked Liebe "Is this your dream? Is it now?" The implication of the statement was that raising a family would take up too much of the young mother's time and prevent her from making the commitments necessary to becoming the next "American Idol."
"If it's not your dream, you might need to leave because there's a lot of dreams behind you," Perry asserted. Liebe replied that she was "still processing" the experience of appearing on "American Idol."
Perry continued to raise questions about Liebe's ability to handle the pressure associated with appearing in the singing competition, assuring her after her audition that "If it's not your dream, it's not going to go far." According to Perry, "I also respect everyone that's walking through that door who will lay down their life for this golden ticket," referring to the approval of a majority of judges required to advance to the next round of the competition.
Throughout her audition, Liebe indicated that her interest in pursuing a music career was relatively new. She referred to the previous six months as "the first time in my life that I've given myself a minute for me," explaining that several people have encouraged her to "do something" with her voice.
"I'm not really a musician," she maintained. "I like to go to karaoke, like, with my friends, and I did like a little bit of like, church choir."
The other judges offered similar concerns about Liebe's participation in the competition, with Lionel Richie stressing to her that "you have to take it seriously" and Luke Bryan proclaiming that "you don't know what the Hell you're doing here but you're a great singer."
However, Perry's analysis in particular launched a wave of criticism, which caused Liebe to create her response video. She concluded her video by saying "thanks for the love" after previously asserting that "women supporting and uplifting other women is so cool."
As for her future on "American Idol," Liebe received her "golden ticket" to Hollywood after Bryan gave an enthusiastic "yes" while Richie put himself down as a "no," followed by Perry casting the deciding vote with a "yeah, I guess." As Liebe grabbed the "golden ticket," Perry encouraged her to "hurry before the dream ends."
Liebe will join several other "American Idol" hopefuls for "Hollywood Week," where the judges will winnow the field further. According to TV Guide, an additional round of auditions is scheduled to air this Sunday on ABC while "Hollywood Week Part # 1" will air on April 2.