American Idol to Fire Four? Entire Judging Panel Could Face Axe (VIDEO)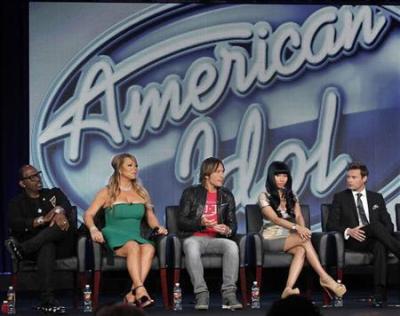 American Idol is set to fire all four judges at the end of the current season, according to new rumors out on Thursday.
The long-running reality TV singing contest currently has a judging panel consisting of Mariah Carey, Randy Jackson, Nicki Minaj and Keith Urban. However, all four of them could be booted off the show by the start of the next season.
An unidentified insider has told Wrap that even executive producer on the show, Nigel Lythgoe, could be on his way out.
As yet, Fox has not made any public comment on the issue, but is expected to address details next week when it formally announces its 2013-14 schedule to advertisers.
The clean out seems to be a reaction to a second season in a row where the show has experienced double digit ratings declines. Already this year producers attempted to revamp the line up on the show, but their efforts seem to have failed, with Nicki Minaj and Mariah Carey getting involved in continued arguments on the show.
Carey even admitted to a contestant in recent weeks that producers on the show had criticized her own performance as a judge, highlighting the apparent tensions behind the scenes this season.
Meanwhile, other sources have told Fox News that Carey herself wants to leave and at the end of the season she will be exiting.
"She's done with it all. She doesn't need the platform, and all the drama isn't healthy for her," the insider said.
Carey has not been afraid to speak of the tensions she has with Minaj, and has even admitted to Barbara Walters that she was uncomfortable working with Nicki Minaj.
Carey said, "It felt like an unsafe work environment. Anytime anybody's reeling threats at somebody, you know, it's not appropriate. I'm a professional. I'm not used to that type of environment."
Things have repeatedly spilled over between the pair, and during one argument earlier in the season Minaj threatened to shoot Carey.
This week's episodes air tonight and Thursday, with the final contestants being Angie Miller, Candice Glover, and Kree Harrison.
Mariah Carey Talks Nicki Minaj "American Idol" Feud - Barbara Walters "Nightline" Interview