American Pastor Imprisoned in Turkey Calls on Trump to Fight for His Release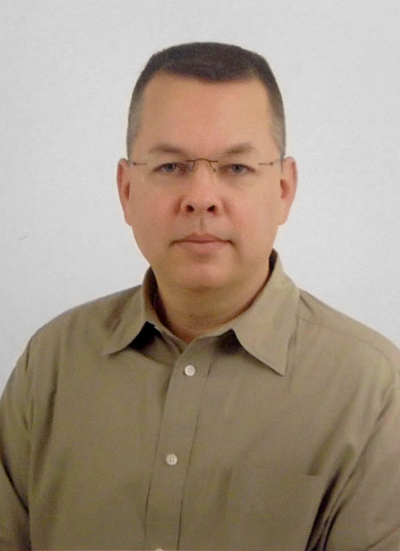 An American pastor imprisoned in Turkey on trumped-up terrorism charges, Andrew Brunson, is calling on President Donald Trump and his administration to "fight" for him and secure his release.
Brunson, a Presbyterian from North Carolina who led a church in Izmir and served in Turkey for 23 years, was arrested along with his wife, Norine, last October. Although Norine was released later that month, Brunson was charged with "membership in an armed terrorist organization" and remains in prison. Brunson's lawyers at the American Center for Law and Justice have said the Turkish government is refusing to release any evidence supporting their allegation.
U.S. Embassy officials met with Brunson in prison on Tuesday. According to the ACLJ, Brunson delivered a powerful statement.
"Will the Turkish government face no consequence for stubbornly continuing to hold an American citizen as a political prisoner? Even though I have a long public track record as a church pastor, they falsely accuse me of being a member of an Islamist terrorist group," Brunson said. "I have been imprisoned since October 7, 2016. During this time the Turkish government has produced no proof and has rebuffed numerous attempts by the American government to secure my return to the United States. In fact they are treating the U.S. government with contempt and paying no price for it."
Brunson continued: "I plead with my government — with the Trump Administration — to fight for me."
"I ask the State Department to impose sanctions. I appeal to President Trump: please help me," he added. "Let the Turkish government know that you will not cooperate with them in any way until they release me. Please do not leave me here in prison."
Brunson and the ACLJ are not the only ones pressuring the Trump administration to come up with a strategy for how to deal with Turkey and other nations that wrongly imprison American citizens.
Earlier this month, Sen. James Lankford, R-Okla., sent a letter to Secretary of State Rex Tillerson saying the administration needs to make better use of the tools Congress has provided to respond to countries with egregious human rights violations. The Christian Post obtained a copy of that letter.
"As you know, Congress provided the Executive Branch with sanction authority for use against government officials responsible for routine and egregious violations of human rights, especially religious freedom," Lankford's March 16 letter to Tillerson reads.
"It is critically important that the United States has a strategy in place for how to engage with a foreign government when they are holding one of our citizens," Lankford continued. "We cannot allow law-abiding Americans to spend countless days, months or even years in a foreign detention or prison system without a concrete plan in place to secure their release."
In an interview with CP, ACLJ senior counsel CeCe Heil said it's shocking to see Turkey, a NATO ally, arrest an American citizen without releasing evidence.
"Really, the only thing we can point to is the attempted coup last July and President [Recep Tayyip] Erdogan's need to gather up anyone who he might potentially consider to be a threat," Heil said when asked why Brunson might have been targeted for arrest. "Other than that, there is nothing."