Americans Still Prefer 'Merry Christmas,' Not 'Happy Holidays'
Despite what appears to be a rising hostility in the U.S. toward all things "Christmas," one organization found that Americans still prefer the traditional "Merry Christmas" greeting as opposed to the phrase "Happy Holidays."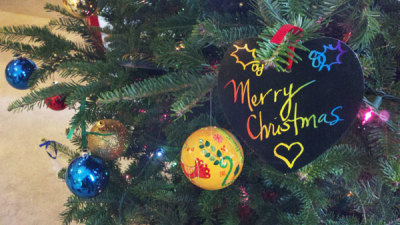 Sixty-four percent of adults believe people should say "Merry Christmas" while 31 percent of believe that the appropriate greeting should be "Happy Holidays," according to a Knights of Columbus-Marist poll.
The number of people that preferred the use of the traditional Christmas greeting rose by three percent from last year, when 61 percent of those surveyed thought "Merry Christmas" was more appropriate for the season.
The survey results are based on responses from 1,026 adults in November. Four percent of participants remained unsure of what to say.
"That we prefer 'Merry Christmas' by such a wide margin is indicative of the importance that Christmas has in the lives of the great majority of Americans," said Knights of Columbus Supreme Knight Carl Anderson in a statement.
The Knights of Columbus is the world's largest Catholic fraternal service organization. The meaning of Christmas has been very important to the Knights of Columbus, which for more than five decades, has been at the forefront of the campaign to "Keep Christ in Christmas."
Since the 1980s they have produced public service announcements with the "Keep Christ in Christmas" message, which have aired in the United States across several radio stations.
Last year alone, their radio and television PSA spots reached almost 75 million people.
"In a society where Christmas has often become shorthand for shopping, many who celebrate Christmas can lose sight of its true meaning. Those who celebrate Christmas gifts to each other because it is the day on which we celebrate the greatest gift: God's gift of his son to the world," Anderson shared.
"Christmas is about 'peace on earth toward people of good will' and we think that's a message worth remembering."
This month, councils nationwide kicked off the Christmas season by taking part in the organization's Christmas tree lighting ceremonies, commemorating Christ's birth.
While the group fights to remind Americans about the true meaning for Christmas, several others continue to counter their efforts.
Atheist groups throughout the country have been attempting to remove faith-related symbols from the public square while local governments and advocacy groups seek to remove the term "Christmas" on all holiday-related items.
The "War on Christmas" has caused many Christian groups to fight back, looking to protect the Christmas tradition and honor Christ.
In Tulsa, Okla., a parade committee changed the name of its winter parade to include "Holiday" instead of "Christmas," upsetting many residents and sponsors.
As a response, Tulsa Christmas Parade LLC, a Christian organization, offered an alternative parade at the same time as the "Holiday Parade of Lights."
People Prefers Christmas over Holidays
"You look at Christmas cards now, and how many say, 'Happy Holidays' or 'Season's Greetings?'" Mark Croucher, president of the Christian parade group, told The Associated Press previously. "I'm just asking for let's have Christ in the parade. He stood up for us and died for us 2,000 years ago, and now it's time we stand up and honor him."
Others throughout the nation have also been criticized for their recent decisions to remove "Christmas" from the public square, including Rhode Island Governor Lincoln Chaffee, who came under fire from Christian groups for inviting guests to a "Tree Lighting Ceremony," using the word "holiday tree" instead of "Christmas tree."
As the battle continues to wage, groups like the Knights of Columbus are trying to remind people that Christmas is above all a holy day celebrating the birth of Christ.
"For that vast majority of Americans who observe Christmas, this day and season are a time for us to celebrate the fact that God exists and is with us," Anderson commented.
"Saying 'Merry Christmas' allows us to celebrate that fact with joy, and to share our joy with our loved ones and neighbors."