Americans are unaware of surrogacy horrors, fertility 'predators,' advocates say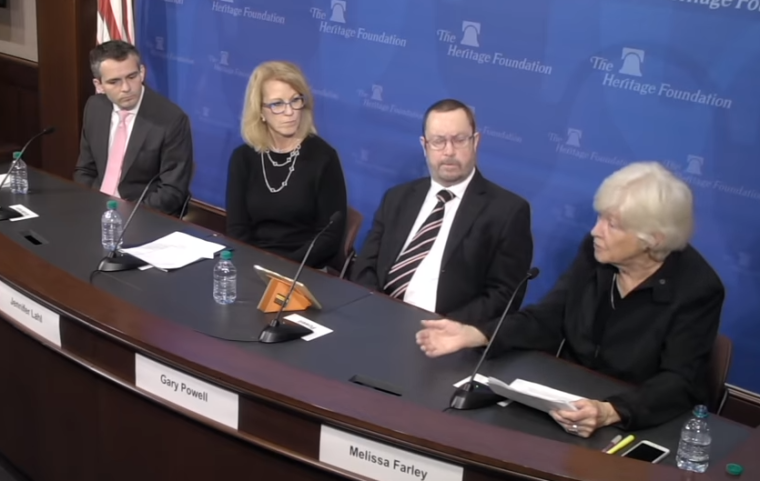 WASHINGTON — Americans are ignorant about the dangers of surrogacy and thus remain in favor of it, advocates say, stressing the need for education about the exploitation inherent in the practice.
During a Monday panel at The Heritage Foundation hosted by scholar Ryan Anderson on the casualties of surrogacy, three advocates who believe it constitutes a human rights violation and that it's particularly harmful to the women whose wombs are rented out in legally contracted pregnancies noted the widespread ignorance about the subject among the general public.
The practice of surrogacy is akin to prostitution in several important ways, noted panelist Melissa Farley, founder of the nonprofit group Prostitution Research & Education, especially the use of obfuscating lingo that both the commercial sex industry and surrogacy agencies employ to manipulate perceptions about what they are actually promoting.
Among the terms women who participate in surrogacy arrangements are referred to are: "an incubator," "a suitcase," "a bearer," "an oven," or "gestational carrier."
"This denies her humanity by commodifying her and ignoring the fact that she is a medical patient with a high-risk pregnancy," Farley asserted during her remarks.
"It's not buying a baby," she said, citing the words of one surrogacy lawyer. "It's buying a receptacle."
In modern times, proponents for the legal allowance of prostitution, and by extension surrogacy, have been the neoliberals on the political left and the libertarians on the political right; the only groups who voice opposition have been left-wing feminists and traditionalist social conservatives, though, for different reasons, she observed.
"In the United States, surrogacy is not driven like prostitution is as much by race as by class," Farley said in response to a question from The Christian Post about the money-making motivations of third-party reproductive operators and how they prey on economically disadvantaged and racial minority women.
"It's a smart marketing ploy on the part of the surrogacy pimps because they don't want to be seen as a blatant market transaction. So they screen out people who might be poor."
Jennifer Lahl, founder and president of the Center for Bioethics and Culture, added in response: "Before we made our film "Breeders: A Subclass of Women" one of the requirements of the funder of that film was to do polling of attitudes of Americans around surrogacy. And when the polling company came back with the data they basically said: 'Are you sure you want to start this Stop Surrogacy Now campaign? Because you don't have anybody with you.'"
"'You don't have any demographic, any religious, political, age group'. They said: 'You're not even starting at ground zero, you're in a hole.' And what the data showed was that it's a huge educational deficit," she said.
"If you don't have the information then the predators fill it with lies."
Lahl stressed that while the data might look bleak at present she's optimistic that once people are educated on the issue they will make better, more virtuous choices. Hopefully "even the libertarians in the Silicon Valley where I live will have a stream of social consciousness and human rights consciousness that we can tap into."
The fertility industry is neither tracked well nor regulated much, she went on to say. When a baby is born via surrogacy in a hospital delivery room the procedures are not such that medical staff notes who the birth mother is, who the egg and sperm donors are, or who the parents are that procured the child.
"We do know that the numbers are growing," she acknowledged, "because if you just follow the finances ... it's a multi-multi-billion dollar-a-year industry that's trending up."
And now that same-sex marriage is legal in the U.S., the industry has expanded even more, she said, as it's increasingly seen as a means for homosexual male couples to start families.
The campaigner is hopeful that as stories of exploitation are more widely heard and as nations in the global South are closing their borders to surrogacy, the public will not view surrogacy positively. Most of Europe has forever prohibited these practices, she noted. It's being fiercely contested in France and in the U.K. where the commercial variety is banned.
"It will be interesting to see if those countries are able to hold the line," Lahl said.
Her campaign, Stop Surrogacy Now, is connected to global nongovernmental organizations that share information and correspond with relevant government entities, urging them to keep their legal restrictions on the practice in place.
"Maybe one day the United States will be able to be instructed," by the global South nations outlawing it, she said.