Amy Grant Declares: Christmas Started Because 'God So Loved the World'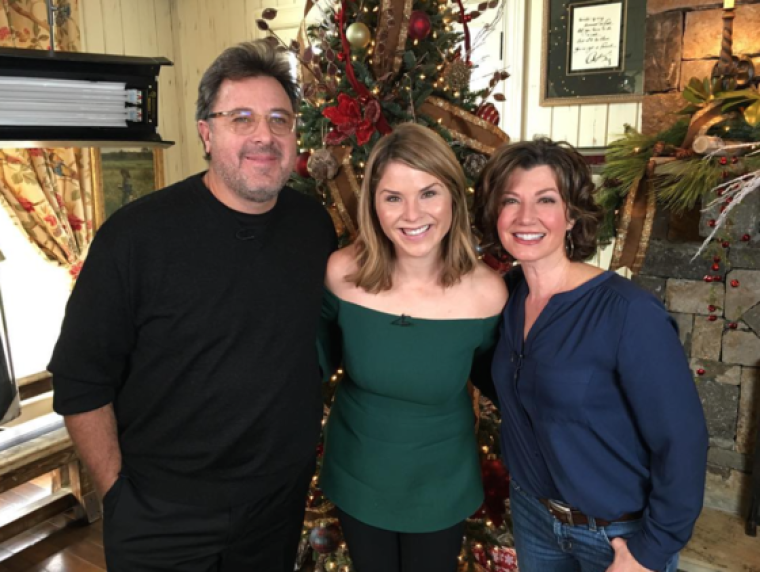 Superstar couple Amy Grant and Vince Gill sat down for an intimate interview with Jenna Bush Hager on the popular NBC morning show "TODAY" on Thursday and talked about their Christmas traditions. The Christian pop singer declared that Christmas started because of the love of God.
Because of all of her holiday music success, Grant and Christmas now go hand in hand in Tennessee. Her Christmas tours with both Michael W. Smith as well as husband Vince Gill are always best-selling, sold-out national concerts.
"TODAY's" Bush Hager flew to Nashville to meet with the couple, who she says are some of her musical heroes, for a candid holiday interview. Gill and Grant both shared Christmas memories, gushed about how much they admire each other and talked about their family traditions.
"This is where she really shines, this time of year these songs, the true spirit of Christmas, she has that," Gill said of his wife of 24 years.
"Then he starts playing guitar and everybody levitates and I get to stand next to him and say, 'I'm crazy about you,'" Grant stated.
They talked about their children and grandchildren and both described what Christmas meant to them."Family and love," Grant said. "Safe," Gill added.
Bush Hager kept trying to get the couple to share the spiritual aspect of Christmas and Grant openly shared.
"Christmas started because God so loved the world He gave His son and beyond all the presents beyond all the hoopla, I know, that I know, that God is with us," Grant concluded.
Grant's fourth Christmas album, Tennessee Christmas, was released last year and is her first all-new Christmas album in nearly 20 years. The album caught mainstream attention from many reputable media outlets, including The New York Times.
Gill and Grant's Christmas performances at Nashville's Ryman Auditorium will be running through to Dec. 21. In addition to that, the six-time Grammy award-winning songstress is teaming up with Michael W. Smith again for their annual co-billing Christmas tour. The coast to coast tour will be incorporating a full symphony orchestra at each performance.
For more information, visit amygrant.com.