Bart Millard Reveals Amy Grant Moment That Skyrocketed 'I Can Only Imagine' Career (Exclusive)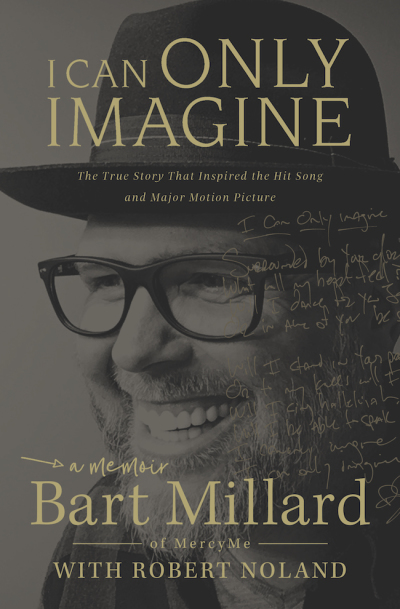 MercyMe frontman Bart Millard describes the exhilarating moment that skyrocketed the success of his biggest hit to date in his soon-to-be released book, I Can Only Imagine.
The Christian cross-over hit, "I Can Only Imagine" sold over 2 million digital downloads and was certified almost 3x platinum. Now, almost a decade later, Millard is telling the story behind the tune.
What many might not have known up until now is that the inspirational tune was birthed from Millard's difficult upbringing that was eventually brought to redemption and healing after his dad was transformed "from abusive father to man of God."
The book, I Can Only Imagine, which will be available on Feb. 13, 2018, gives fans a front-row seat to witness God's presence throughout Millard's life. "Whether falling in love with his childhood sweetheart or mourning his father's death, founding MercyMe or flailing in the midst of its success, Bart continues to place his trust in God's plans — plans that continue to surprise and surpass what Bart could have ever imagined," a summary of the book reads.
Below is an excerpt from I Can Only Imagine which describes the moment Millard's song of the same name had moved award-winning singer Amy Grant so much so that she asked him to join her on stage. Although he didn't know it then, that performance would go on to change Millard's life and career forever.
"I was standing just offstage at the iconic Ryman Auditorium, Nashville's 'Mother Church of Country Music,' listening to an incredible band play the intro to my song. The grin on my face was quite literally ear to ear. This was, without a doubt, the single greatest moment of my professional life. All the countless nights I had lain awake envisioning better days and a brighter future, and now this reality I was experiencing outdid them all. I was frightened, but ecstatic. Nervous, yet peaceful. Proud, while humbled.
For the first time ever in my life, reality was outrunning my imagination.
And then, just when I thought it couldn't get any better, the crowned 'Queen of Christian Pop,' Amy Grant, who had been my absolute hero and guiding light from the seventh grade on, stepped up to the microphone. In her angelic, soothing style, she sang the words:
'I can only imagine what it will be like ...'
I soaked in the moment, every word and every note. As Amy was finishing the first chorus, it was my cue. Just as we had planned, I stepped out onto the stage, into the spotlight, and into a surreal moment. I walked to the mic, stared out into the sea of faces, drew in the deepest breath I think I've ever taken, and sang,
'I can only imagine when that day comes ...'
As I ended the verse and went into the chorus, Amy joined me, along with her husband, Vince Gill, the legendary country music superstar. And then some sort of holy convergence occurred. The crowd gathered there at the Ryman seemed to fade away, and I began to sing for an audience of only two. I envisioned my dad watching, smiling, taking in all that he had prayed for and believed for me, while my Heavenly Father was also watching, smiling, accepting my offering of giving Him the glory He so richly deserved."
As well as the book, Millard's life-story will be showcased in the upcoming film "I Can Only Imagine." The Erwin Brothers and Lionsgate announced the official release date for March 16, 2018.
According to the movie's summary, "I Can Only Imagine" is the "true story that follows the life of Bart Millard, lead singer of the Christian band MercyMe, who loses his father to cancer and inspires him to write the mega-hit song, 'I Can Only Imagine.' The story beautifully illustrates that nobody is ever too far from God's love — or too far from an eternal home in Heaven."
The film features an all-star cast, including Dennis Quaid ("The Day After Tomorrow," "The Rookie," "Soul Surfer"); Oscar winner Cloris Leachman ("The Iron Giant"); platinum-selling country music legend Trace Adkins; and author and actress Priscilla Shirer ("War Room"); and will introduce Broadway's J. Michael Finley ("Les Miserables").
For more information about "I Can Only Imagine," the book and movie, click here.