An eloquent voice bears witness
Earlier this week, Senator Tim Scott, R-S.C., furnished the Republican rejoinder to President Joe Biden's first State of the Union address.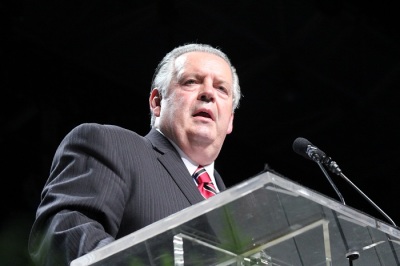 In doing so, Scott bore eloquent witness to the inspiring hope that suffused Dr. Martin Luther King Jr.'s civil rights ministry that transformed our nation in the 1950s and 1960s.
As I listened to Scott, I found myself profoundly moved as I thought, "this is what Dr. King had in mind when he spoke of America living up to the promises of our founding documents and a nation where people are judged by their character, rather than the pigmentation of their epidermis."
A very significant part of the power behind Scott's message was the messenger who delivered his testimony to America's promise and greatness. Scott is from South Carolina, the state where the Confederacy began. Scott is a proud black man of humble origins who holds former infamous segregationist Strom Thurmond's seat in the Senate and also defeated Thurmond's grandson along the way.
As impressive as the messenger is, his message was even more inspiring and significant.  Addressing what has become the incredibly divisive issue of race with the rise of the historically bogus 1619 Project and the Marxist-inspired critical race theory, Scott did not mince words. Acknowledging that he himself has experienced racial discrimination (and not just in the distant past), he still acknowledges the breath-taking progress our country has made in the last half-century.
Scott pointed out a terribly painful and destructive irony.
"A hundred years ago, kids in classrooms were taught the color of their skin was their most important characteristic. And if they looked a certain way, they were inferior."
Now, ironically, "kids again are being taught that the color of their skin defines them. And if they look a certain way, they're an oppressor."
Scott excoriates those Americans who claim America has not made significant progress in eliminating the stain of racism from our society. He rightly declares that "America is not a racist country" and that "it's wrong to fight discrimination with different types of discrimination." In this, he echoes Chief Justice John Roberts, who famously declared, "the best way to stop discrimination on the basis of race is to stop discriminating on the basis of race." One should aspire to that level of simple eloquence.
I strongly suspect that I speak for millions of my fellow Americans when I say that Scott's message of hope where we live up to our national motto of E pluribus unum, ("out of many, one") was beautiful music to my ears and a healing balm for a heart deeply pained by the racial division being fomented amongst us.
Scott then shares with us the source of his hope and his optimism – his religious faith – something he shares in common with a majority of his fellow Americans.
He reminds us, "We are not adversaries. We are family. We are all in this together."
Once again, drawing on his own experience, he reminds his listeners that his "grandfather, in his 94 years, saw his family go from cotton to Congress in one lifetime."
Consequently, he believes that our finest hour is yet before us. Scott then addresses the fact that race has always been the serpent in the American Eden. He notes, "original sin is never the end of the story. Not in our souls, and not for our nation. The real story is always redemption."
Scott's reward for reminding America of its greatness and its spiritual source was to be viciously ridiculed and mocked on social media as "Uncle Tim," a play on "Uncle Tom," an extremely derogatory phrase for blacks who are obsequious to whites.
I am extremely grateful that Scott is his own man, and refuses to be intimidated by the cancel culture and the Twitter mob. 
It is well past time for patronizing white liberals like Biden to come to terms with the fact that blacks such as Scott do not live on the liberals' plantation.
Remember the then-candidate Joe Biden declaring, "If you don't support me, you ain't black." Really! How insulting and patronizing. I do believe the scariest thing a white liberal ever encounters is a black, "think for themselves," conservative.
Given the general tenor and theme of Scott's address, it seemed perfectly appropriate for him to close with the words of a hymn "drawn from Scripture."
"May the Lord bless you and keep you. Make His face shine upon you. And be gracious to you. May his presence go before you and behind you, and beside you. In your weeping and rejoicing. He is for you. May His favor be upon our nation from a thousand generations.  And your family and your children. And their children."
Like many Americans, my response to Scott is simply, Amen! Thank you Sen. Scott for reminding us of the source of our strength and the inspiration for the glorious story that is America. Thank you Sen. Scott for reminding us of our priceless heritage as Americans!
Dr. Richard Land, BA (magna cum laude), Princeton; D.Phil. Oxford; and Th.M., New Orleans Baptist Theological Seminary, was president of the Southern Baptists' Ethics & Religious Liberty Commission (1988-2013) and has served since 2013 as president of Southern Evangelical Seminary in Charlotte, NC. Dr. Land has been teaching, writing, and speaking on moral and ethical issues for the last half century in addition to pastoring several churches. He is the author of The Divided States of America, Imagine! A God Blessed America, Real Homeland Security, For Faith & Family and Send a Message to Mickey.