Analysis: 3 Ridiculous Reactions to the Supreme Court's Hobby Lobby Decision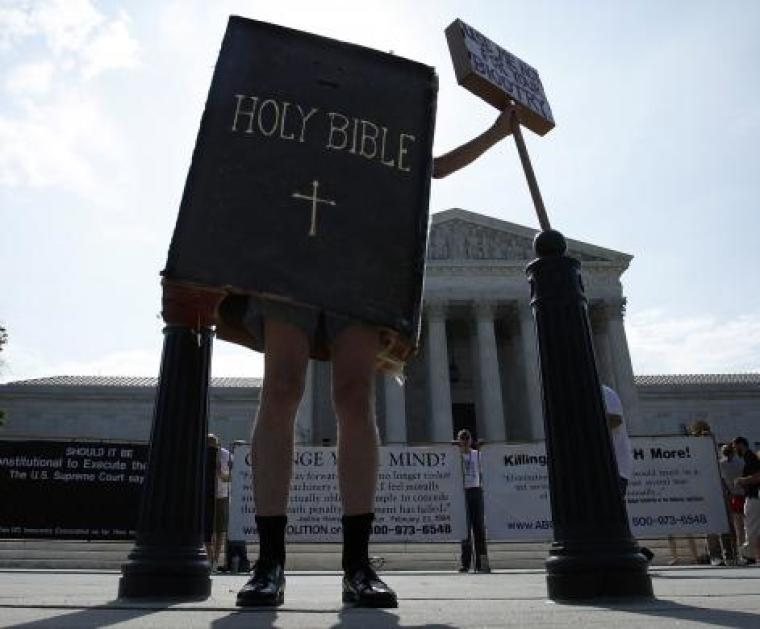 Amid some of the myths perpetuated about last week's Supreme Court's decision in Burwell vs. Hobby Lobby, there were a few reactions that were particularly notable for their nonsensical reasoning. Here were three of them:
1. "We are a corporate theocracy now."
The Court's Hobby Lobby decision was part of a Christian Right plot to end democracy in America and replace it with a "corporate theocracy," C.J. Werleman wrote for Salon.
Politically conservative Christians, also called "theocrats" and "the American Taliban," "are fighting and defeating America's secular sense of self," Werleman complained.
While mobilizing voters is generally recognized as one of the primary roles of political parties in democratic nations, Werleman sees something sinister in the fact that the Republican National Committee is attempting to get Republicans to vote in this year's election.
As evidence that we are now living in a theocracy, he wrote: "Last week, the [Republican National Committee] launched its first web-based effort to rally social conservatives and evangelicals as a key cornerstone of the party's efforts to retake the Senate in the coming November elections."
Werleman does not provide much explanation for how the Supreme Court's Hobby Lobby decision will end democracy and install a theocracy, but his reasoning appears to be based upon the Court's "decision to grant corporations religious personhood."
It is true that the Hobby Lobby decision was the first time that the Supreme Court recognized that individuals do not lose their First Amendment religious freedom protections when they form a for-profit corporation. It is not the first time, however, that the Supreme Court recognized (a) religious freedom protections for non-profit corporations, (b) religious freedom protections for individuals engaged in commerce, or (c) other First Amendment protections for corporations.
Indeed, one Supreme Court decision that is often highly praised by liberals, New York Times vs. Sullivan, recognized that a corporation (The New York Times) has First Amendment freedom of speech and the press protections.
Additionally, the notion that corporations should be considered the same as persons for purposes of the law has been a part of the law in America since the 1870s and it was not much of an issue in the case. Looking at the dissents, seven of the nine justices agreed that for-profit closely-held corporations enjoy the religious freedom protections of the First Amendment.
2. The Supreme Court has too many Catholics.
The Hobby Lobby decision is evidence that the Supreme Court has too many Catholics, Ronald A. Lindsay, president and CEO of the Center for Inquiry, wrote in a blog post for The Huffington Post.
Six of the nine justices are Catholic, Lindsay pointed out, and the five justices in the majority were all Catholic. Sonia Sotomayor, who dissented, is the sixth Catholic.
The Supreme Court, Lindsay claimed, was sympathetic to Hobby Lobby owners' religious freedom claims because they dealt with contraception (the owners are Evangelical), but the Court was "dismissive" of religious freedom claims of other religions because the decision did not strike down other health insurance mandates that would violate the religious views of minority faiths, like Jehovah's Witnesses, Scientologists and Christian Scientists.
This argument is odd coming from the Center for Inquiry, an organization devoted to promoting a secular society, for two reasons.
First, the Court issued a ruling that is narrow in a least one sense — it only applied to the contraception mandate. Yet Lindsay, a secularist, is arguing it should have been more broad and applied to all religious objections. The Court did not "dismiss" other religious objections, but only said that each needs to meet the standards of the Religious Freedom Restoration Act. Under RFRA, each religious claim must be evaluated under its own merits. (RFRA was passed, notably, in defense of a minority religion — the Native American Church.)
Second, to argue that the Supreme Court has too many Catholics is to implicitly argue that there should be a religious test, either by law or tradition, for public office. A secularist, however, should be supportive of the Constitution's restriction on religious tests for public office.
3. It will prevent poor women from entering the middle class.
The Court's decision will prevent women "from being able to join the middle class," Congresswoman Debbie Wasserman Schultz (D-Fla.) chair of the Democratic National Committee, said in an MSNBC interview.
"Birth control costs about $600 a year," she said. "That financially impacts women; it prevents them from being able to join the middle class. Let's keep in mind, birth control has affected women economically positively since its creation, and this is going to turn the dial back."
Wasserman Schultz is wrong in at least three ways:
1) Poor women are eligible for Medicaid, which covers birth control (though the coverage varies by state). (Many of these women, however, would likely prefer one of Hobby Lobby's $14 per hour jobs, complete with health care covering 16 of the 20 types of approved birth control, to being on Medicaid.)
2) Birth control is available for only $9 per month (about $500 less than Wasserman Schultz's estimation) at Walmart, Target or Kroger.
3) The Court did not remove the government's authority to give women free birth control. The Department of Health and Human Services still has the authority to do that under the Affordable Care Act. The Court only said that HHS cannot do so by infringing upon the religious freedom of employers.