Analysis: 6 Things to Watch for in Tuesday's GOP Debate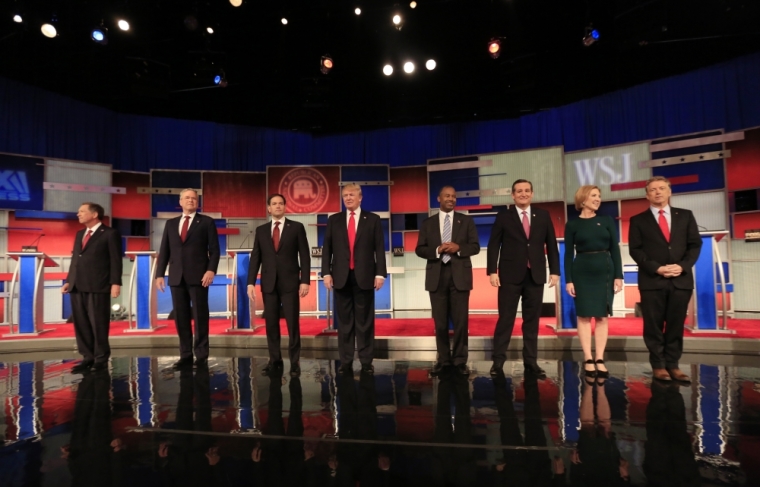 Tuesday night's Republican debate will be the last gathering of the top-tier candidates for 2015.
GOP frontrunner Donald Trump opened up a commanding national lead in Monday's Monmouth University poll. Many polls show Sen. Ted Cruz surging in Iowa, and at least statistically tied with Trump in the state.
In some polls, Cruz is now challenging Trump nationally. Trump's campaign manager Corey Lewandowski said Sunday, "Sen. Cruz has become the flavor du jour of the week."
But Cruz is clearly gaining traction and eliciting responses from Trump. The two candidates have so far had a pretty amicable and friendly relationship. However, Cruz's surge is currently changing the dynamics of the race.
Below are six things to watch for in tonight's GOP debate:
1. Will Trump continue to attack Cruz?
Trump recently called Cruz "a little bit of a maniac" and is accusing the Texas senator of attacking his temperament to be president behind his back. Trump often mixes these attacks with compliments saying he would consider Cruz as a running mate. Many Trump supporters also have a high view of Cruz and both candidates are fighting for many of the same anti-establishment supporters.
2. Will Cruz continue to play nice with Trump?
Nobody has been more reluctant to attack Trump than Cruz. He wants his supporters. So far, no matter how much Trump turns up the heat on Cruz he shies away from publicly criticizing him, instead offering positive words when talking about the GOP frontrunner.
3. Does Ben Carson pick up any much needed momentum?
Carson has been steadily falling in Iowa and national polls. Some believe repeated gaffes and questionable statements has damaged his brand. Many of his Evangelical supporters have shifted to Cruz.
Carson usually hangs back and plays it cool in debates. It will be interesting to see if the retired neurosurgeon does anything to make himself more noticeable and visible.
4. Chris Christie needs another strong debate performance.
The New Jersey governor was considered by many to have a strong debate performance during the last meeting in Des Moines, Iowa. Christie has struggled nationally, but has put considerable time and resources in to campaigning in New Hampshire, a traditionally more independent minded state.
Christie has seen a recent surge in New Hampshire. He was recently endorsed by the New Hampshire Union Leader and is in second place behind there behind Trump in some polls. The Real Clear Politics polling average has Christie in third place in New Hampshire, but is one of only three candidates in double digits.
Christie, who usually has a commanding and aggressive presence in forums, needs a strong performance Tuesday to continue his momentum.
5. Does the Marco Rubio – Cruz feud continue?
Rubio and Cruz are playing a long game strategy of convincing the establishment that they are the alternative to Trump. Trump's often bellicose comments have in many ways helped Cruz, making him more palatable to establishment voters.
The two candidates have been hitting each other hard on the campaign trail and pointing out each other's flip flops on issues like immigration. It will be interesting to see the conflict possibly expand on stage between the two candidates.
6. The behavior of the moderator.
Questions concerning overzealous moderators have plagued many of the GOP debates. Often they are perceived as trying to unnecessarily pit candidates against each other to stir up conflict.
The CNBC debate in October was widely panned by conservative and liberal pundits alike for its unprofessional and biased moderators. Moderators are increasingly inserting themselves into the storyline and want to create news and ratings.
Veteran journalist Wolf Blitzer of CNN moderates the December 15 debate in Las Vegas. He has moderated eight presidential debates in the past and has said little about what candidates should expect, except to say that national security will be a prime focus.