Analysis: #Transgender and #Transracial? The Caitlyn Jenner, Rachel Dolezal Comparison Undermines Arguments Against Gay Marriage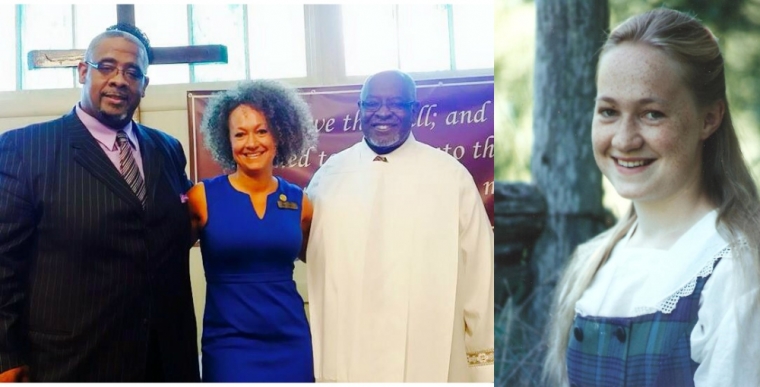 With the nation captivated by the discovery that the leader of a civil rights organization is a white person who has been pretending to be black, some conservative pundits have drawn a comparison with Bruce Jenner claiming to be a woman who now goes by Caitlyn Jenner. If one can be transgender, they argue, why not transracial? The comparison is problematic, however, and could undermine the conservative argument against gay marriage.
Dolezal's parents reported on Friday that the leader of the NAACP of Spokane, Washington, was white. In a KREM 2 News interview the same day, Dolezal seemed to suggest that one's race is whatever they identify with.
When asked if she's black, she answered, "I do consider myself to be black ... that's how I identify." (She also noted that she prefers "black" to "African-American.")
Dolezal also said her parents are not her parents because she does not consider them her parents, and her brother is her son because she thinks of herself as his mom.
When asked if she misrepresented her race, Dolezal responded that the question is "more important for me to clarify ... with the black community and my executive board," than to a community that does not understand "the definitions of race and ethnicity."
She also paraphrased W.E.B. Du Bois as saying, "race is usually biological, always cultural."
In a statement, the NAACP noted it's colorblind in its admissions process for leaders: "One's racial identity is not a qualifying criteria or disqualifying standard for NAACP leadership."
The story contains many other odd details too numerous to mention here.
Conservatives pounced.
"How, exactly is what Dolezal did any different than what Jenner is currently doing?" Sean Davis wrote for The Federalist. "Rachel Dolezal is not black, and Caitlyn Jenner is not a woman. ... Rachel Dolezal changing her wardrobe, her makeup, and her hair do not make her black. Pretty much everyone seems to agree on that, for obvious reasons. You don't turn red into blue by magically declaring that red is now blue.
"And yet, the Left and the media would have us believe that Bruce Jenner can become a woman by … changing his name, his wardrobe, his makeup, and his hair. How can you logically square the belief that Jenner is a hero while Dolezal is a mental case?"
On Twitter, discussion of the Dolezal affair has been trending with the hashtags #transracial and #WrongSkin.
There was a ready made foundation for the transracial meme that aided the Jenner comparison.
In March 2014, Stella Morabito wrote a column, also for The Federalist, called, "If We Can Pick Our Gender, Can We Pick Our Age? Our Race?"
On April 19, Breitbart's Milo Yiannopoulos posted a satirical video mocking the transgender phenomenon by claiming he's "trans-black." He recalled the video in a Friday article about Dolezal.
And, in a Monday column for The Christian Post, Michael Brown noted that he used a race comparison to critique transgenderism in 2011.
"But why stop here, with combining or defying sexual categories? Why not go one step further (if, in fact, it is actually further) and create self-identified categories of race or color or nationality? How about, 'Even though I was assigned the ethnic identity of a white male at birth, I identify myself as a black female.' Why not? ... Are ridiculous concepts such as these all that different from 'the transgressing of gender norms' and 'def[ying] the binary in our society'?" he wrote back then.
There are certainly some similarities in how Dolezal spoke about her racial identity and how Jenner spoke about his gender identity.
As CP previously explained, liberals believe that sex and gender are not the same. Sex is determined by genes whereas gender can be determined by the individual regardless of their chromosomes. According to this view, one can for instance, have the male sex and identify as the female gender.
There are some important differences, however, between Dolezal and Jenner. And in the long run, the comparison does not help conservative arguments.
First, Dolezal purposely misled people about her race. Bruce Jenner has been open about his "transition" to Caitlyn Jenner.
There has been some debate about how honest Jenner was to his ex-wives regarding his gender identity issues. But that supposedly happened before he publicly claimed that he is now female.
Second, while conservatives, by and large, believe that sex and gender are the same, and determined by chromosomes, race is, genetically speaking, more complicated.
There is no "race gene" that is comparable to the gender gene. Race is actually, as some liberals like to say about gender, socially constructed.
Society categorizes people by race based mostly upon how they look, such as skin tone, hair texture and nose shape. Those characteristics are determined by genes, but the genetic code does not easily place people into the five or so race categories that society has constructed. From very light to very dark skin tones, there is an infinite range of possibilities.
A March 2014 study published in The Annals of the American Academy of Political and Social Science found that about one in five prisoners had their race classification changed at least once in their life.
While most people have an appearance that easily identifies them as one of the usual categories — white, black, brown, etc. — some do not neatly fit into a single category.
Third, while liberals have compared the fight for gay marriage to the fight to overturn laws against interracial marriage, conservatives have countered race and gender are not the same.
The argument goes like this: A male/female conjugal relationship is fundamentally different than a romantic relationship between two people of the same gender, because only a male and female can make a baby, and it is not discriminatory to treat two unequal relationships differently. The prohibition on interracial marriage, on the other hand, was based upon bigotry toward blacks. Both the redefinition of marriage to include same-sex couples, and the redefinition of marriage to exclude mixed race couples, violated the traditional understanding that government's interest in marriage is to give children the best chance to be raised by their biological mother and father.
By suggesting a similarity between race and gender in the Dolezal controversy, conservatives could be undermining their own argument about marriage. Gender and race are not the same. They should leave it a that.