Caitlyn Jenner's Gender 'Choice,' NAACP Leader Rachel Dolezal's Black Ethnicity Claim Show 'Longing to Belong,' Says Christian Blogger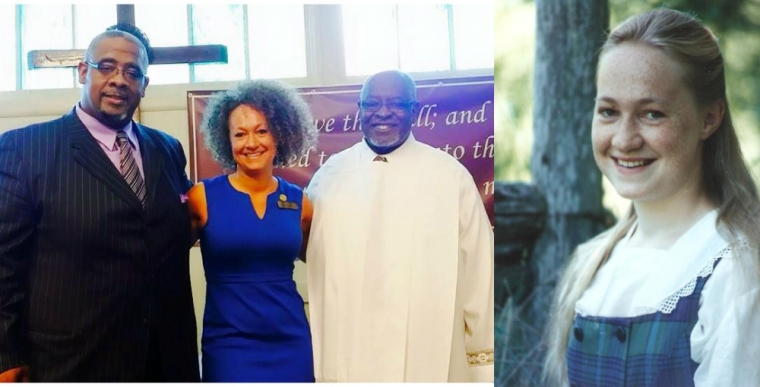 A DesiringGod blogger notes in a blog post how America has accepted Caitlyn Jenner's acquired gender while rejecting the black ethnicity claim of Rachel Dolezal, the leader of the Spokane chapter of NAACP, who was born white. They long to belong, she says, and the Gospel offers answers to their struggles.
"We are told, on the one hand, that we must tolerate Jenner's choice to live as a woman, and, on the other, that we cannot tolerate Rachel Dolezal's decision to live as a black American," writes Jasmine Holmes, a fifth grade teacher at a classical/university model school in Minneapolis, on the website of the desiringBlog ministry.
Dolezal, a prominent civil rights leader in Washington who identified herself as black in an application to serve on the Citizen Police Ombudsman Commission, a volunteer position, is at the center of a Spokane city ethics probe after her estranged parents outed her as being white.
However, Dolezal, who is also a part-time Africana studies professor at Eastern Washington University, maintains she still considers herself to be black.
"Biology doesn't matter when you're born a man yet know you're a woman, but it does matter when you're born white but feel you should be black?" Holmes asks.
Former track and field Olympian athlete and television star, Jenner – formerly known as Bruce Jenner – recently revealed that "I'm a woman," though not biologically.
"What makes a black American?" Holmes goes on to ask, pointing out that it's neither skin tone and nor merely our heritage. "I have relatives that look a lot like Dolezal... My mother's great grandfather on one side was full-blooded Cherokee, and the one on the other was full-blooded Choctaw," she writes.
"Is it our shared experience," she further asks. "This last facet is seen as one of the most sacred aspects of being black in America. Dolezal did not just put her hair in box braids and keep her skin tan; she has taken on the struggle of African Americans as her own. Some have said that she, as a white woman, has used her privilege to make a decision that most black Americans are not able to make: She has chosen to be black."
We can turn to the Gospel to find the answer, she suggests, explaining, "Though gender and sexuality have become fluid concepts, we are still working hard to define the boundaries of ethnic constructs, even as the lines of ethnic delineation are muddled by the diversity of our colorful heritage. We long for identity – we long to belong."
The Gospel helps us identify the root of our dissatisfaction with our place in the world, which is "the sin that separates us from our Father." It also offers the cure for that "bitter root," she adds, referring to 1 Corinthians 15:57, which says, "But thanks be to God, who gives us the victory through our Lord Jesus Christ."
"We were created in God's image, for his glory (Genesis 1:26). That image includes male and female, as well as the beautiful display of diversity that we see in all four corners of the world," Holmes writes.
Neither Jenner nor Dolezal was born into the body that they would have preferred, she says, adding that by changing their present status, "they are trying to change a backstory that they never wrote in the first place."
"They are grasping to change the facts on a scantron and avoiding the true test," she states.
It is important to recognize that "a master craftsman has chosen both our ethnicities and our genders for his glory," she adds. "To try to live outside of those beautiful truths is to question our Creator, and to run from the purpose that he has given to every aspect of who we are — and the true joy that only he offers."