Analysis: Who Is Intolerant, Hateful, Closed-Minded in Gay Marriage Debate? 3 Events Suggest an Answer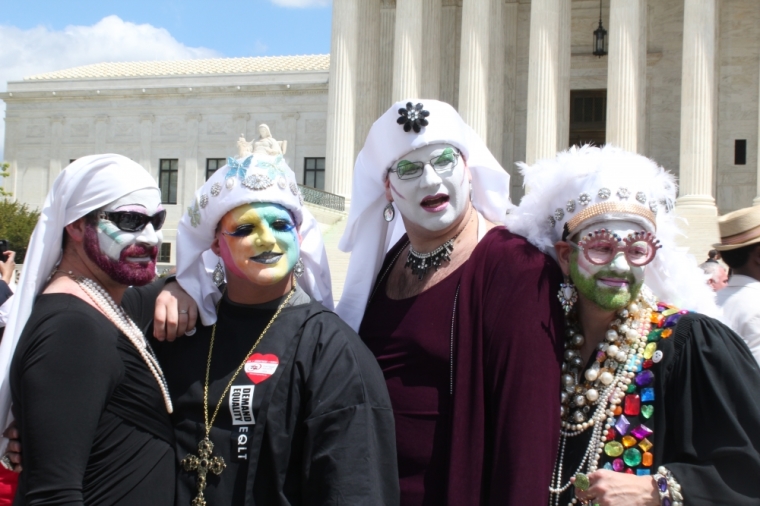 In three recent events, gay marriage activists are sending clear messages to both their opponents and their supporters who may transgress from their strict orthodoxy.
Ted Cruz and the Gay Businessmen
Republican presidential candidate Sen. Ted Cruz met with two gay hoteliers in New York City, Ian Reisner and Mati Weiderpass. The meeting, according to The New York Times, was not a fundraiser for Cruz, but included about 12 people and was to discuss support for Israel, an issue about which Reisner has concerns. Though off-topic, Reisner reportedly asked about gay marriage and Cruz shared his thoughts.
Because of that meeting, there is a planned protest and calls for a boycott against Reisner and Weiderpass. A fundraiser to fight AIDS at a Reisner nightclub was canceled, the New York Gay Men's Chorus canceled another fundraiser at a Reisner and Weiderpass hotel called Out NYC, and a Monday protest was held outside of Out NYC.
Reisner apologized for speaking to Cruz.
"I am shaken to my bones by the emails, texts, postings and phone calls of the past few days. I made a terrible mistake," he wrote in part.
What is the message? Gay marriage supporters must not listen to or work with any opponents of same-sex marriage, even on issues where they agree.
Ryan Anderson and the Friends School of Baltimore
In an April 15 Washington Post article some same-sex marriage supporters described The Heritage Foundation's Ryan Anderson, an outspoken opponent of same-sex marriage, as likeable, smart, sophisticated and courteous. The author of the profile, Robert Barnes, clearly did not agree with Anderson on gay marriage, but his article presented Anderson fairly.
Friends School of Baltimore, the K-12 school that Anderson attended and was mentioned in the article, shared the article on its Facebook page. The post noted that the article is a "fine example of how this school promotes independent thinking and a spirit of respect for all viewpoints."
But then came the backlash. After hearing from disgruntled parents, students and alumni, the principal promptly removed the article and posted an apology.
He wrote, in part, "My decision, in other words, places a priority on the very real and human sentiments of the actual members of our community (as expressed to me in the wake of our posting of this article) over the more purely philosophical commitment to the free flow of ideas."
The principal's decision to remove the post, and his justification for doing so, is out of step with the school's own stated philosophy, which says in part, "The search for truth requires a willingness to listen openly to the ideas of others, even in fields of controversy."
What is the message? Not only do the views of traditional marriage supporters have no place in the public square, their views filtered through a liberal reporter writing for a liberal newspaper (for an article about how collegial that traditional marriage supporter is) has no place in the public square.
Sweet Cakes by Melissa and GoFundMe
An Oregon bakery owned by Aaron and Melissa Klein was ordered to pay $135,000 to a gay couple for refusing to make their wedding cake. This punishment was on top of already having to shut down the bakery due to the charges against them. A fine that large would force the Kleins to sell their home and wipe out their life savings. As Aaron Klein put it, they are not just punishing he and his wife, they're punishing their children as well.
In an article for The Stream, professor Jay Richards, an economist at Catholic University of America, pointed out, "If Aaron Klein had been caught shoplifting or driving 110 miles per hour on a busy interstate, the penalty would have been trivial in comparison."
Naturally, some who heard this story wanted to help out the Kleins. Conservative commentator and author Dana Loesch set up a GoFundMe account for the Kleins. GoFundMe is a crowdsourced-fundraising website. Loesch also used GoFundMe for Memories Pizza when it was forced to close for a few days after a reporter asked its owners if they would cater a same-sex wedding. (They answered "no," though no one has ever requested their pizza for a wedding.)
GoFundMe closed the page for the Kleins, however, claiming it violated their policy against fundraising for "heinous crimes, including violent, hateful, or sexual acts."
Another GoFundMe site was set up for Arlene's Flowers. The flower shop that was shut down and fined after owner Barronelle Stutzman declined to provide arrangements for the wedding of a gay friend. On Monday, Loesch discovered that GoFundMe closed that site as well.
Ironically, GoFundMe is exercising its right to do business with whom it chooses, a choice that the Kleins and Stutzman were not allowed to make.
What is the message? If you refuse to serve a same-sex wedding, your business will be shut down and we will wipe out all of your life's work, and if anyone tries to help you we will (try to) prevent them from doing so.