Ancient Ram Statue Found in Byzantine Church on Christmas Eve May Represent Jesus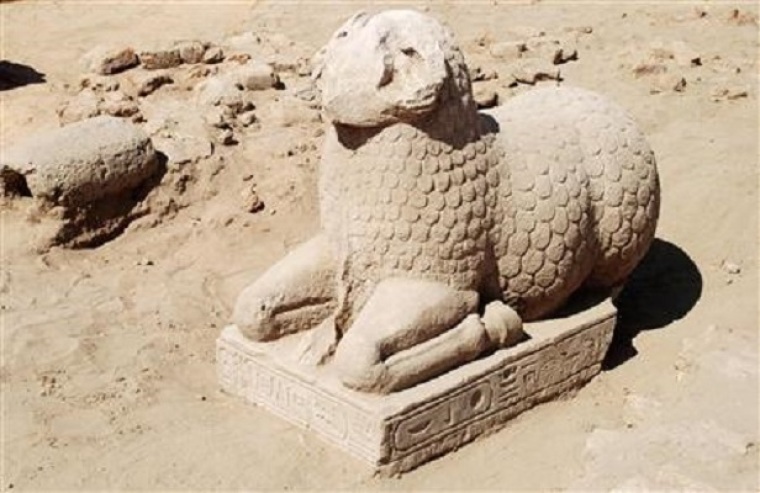 Archaeologists have said that they discovered an ancient marble statue of a ram that may have represented Jesus Christ for Christians of the time period at a Byzantine church in Israel.
"We found a marble statue of a ram that quite possibly dates back to the Roman era," Israel Antiquities Authority archaeologist Peter Gendelman told Tazpit Press Service. "It's a very interesting discovery and its level and status of preservation are quite rare."
The discovery was made at Caesarea Harbor National Park, and several photos were posted of the well-preserved ram by the IAA.
While Gendelman admitted it is hard to say precisely how old the statue is, he suggested it could be 1,500 years old, and that it might have been used as a decoration by a sixth or seventh century Byzantine church in Caesarea.
"We know that Christianity adopted the lamb as a symbol of Jesus so it could very well be associated with the Christian community," Gendelman added.
Another interesting note is that Cornelius, the first Roman officer who converted to Christianity, was originally from Caesarea.
Arutz Sheva reported that rams were a common Christian symbol during the time period. In some artistic depictions, the ram is sometimes illustrated as being carried on the shoulders of Jesus, as the Good Shepherd, though sometimes it is also used to represent Jesus himself.
Rams have been used in pre-Christian religions as well, appearing alongside the Greek gods Hermes and Mercury, as well as the Egyptian god Amun.
"We know, for example, that the ram was a symbol of several deities from nearby ancient Egypt," Gendelman noted.
Gendelman reflected that Jesus was not often portrayed as a person in early Christian art.
"It may or may not be a coincidence, but the statue was uncovered on Christmas Eve," he added.
The archaeologist suggested that the statue could be even older than it seems, possibly from the Roman period, and that it was incorporated in secondary use in the church structure.
Earlier in December, researchers announced another significant find concerning early Christian communities in Israel, with the discovery of Hebrew inscriptions on a 1,500-year-old slab of marble on the shores of Lake Kinneret.
The inscriptions serve as evidence that the ancient village of Kursi near the lake was once inhabited by early Christians or Jews. Kursi is believed to be the town where Jesus once drove out demons from two possessed men, and sent them into a herd of pigs, as found in the Bible in Matthew 8:28-34.
"This is the first indication that there was a Jewish presence, and it reinforces the belief that the town of Kursi was where Jesus performed the 'Miracle of the Swine,'" the team of researchers working at the site said.