Andrea Bocelli sings 'Amazing Grace' at Times Square ahead of film release: 'Music is a form of prayer'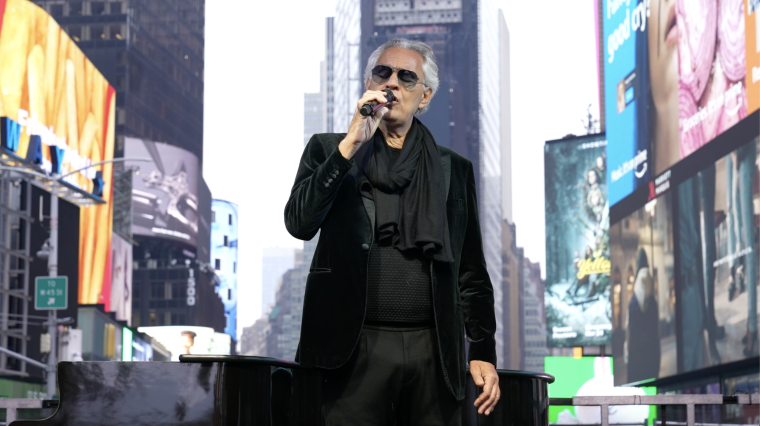 World-renowned tenor Andrea Bocelli promoted the release of his upcoming film, "The Journey: A Music Special from Andrea Bocelli," in the heart of New York City's Times Square where he sang the beloved hymn "Amazing Grace." 
"The Journey," produced by Christian broadcasting network TBN, will be in theaters from Palm Sunday (April 2) through Easter Sunday (April 9). The film follows Bocelli and his wife, Veronica, as they travel on horseback through the stunning hills and valleys of the Italian countryside and discuss faith, hope and family with their friends, including singer Michael W. Smith. 
To share his Christian faith and celebrate the film's release, the award-winning performer — who lost his sight as a child and became completely blind by age 12 — performed a rendition of the classic hymn "Amazing Grace" at Dooley Park in Times Square.
"The Journey" features breathtaking performances from Bocelli and famous Christian singers Michael W. Smith, 2CELLOS, Tori Kelly, Clara Barbier Serrano, Tauren Wells, TAYA, 40 Fingers and Katherine Jenkins, who joined him on a tour of cathedrals and burial sites of the apostles and saints.
"We learned so much about trust, trusting the process, the exercise of faith, trusting in providence and turning fatigued into energy and positivity. We approached our journey with two main goals: first to pay homage to these sacred places and the second to make music together, and the two goals are strictly correlated because music is, in fact, a form of prayer," Bocelli told The Christian Post.
For the Bocellis, the journey had a "deeper intention" than just traveling through the scenic Italian landscape. It was "spiritual in nature, not places but values." "To be discovered further together with our travel friends: peace, forgiveness, faith, family hope and prayer."
Bocelli said visiting the sanctuaries and monasteries was an emotional experience. "[They] gave us reasons to ponder" because of "the many centuries of prayer" observed in the various locations. 
"The Basilica di Santa Cristina in Bolsena was one of the most exceptional moments of the whole journey," Bocelli revealed. "I was so happy to have my daughter, Virginia, with me during that special occasion. The church boasts thousands of years of history and life. Inside are conserved the sacred remains of Santa Cristina who died as a young martyr. Together with my daughter, we prayed and contemplated the strength of those who are willing to sacrifice their short existence for their religion, faith and ideals."
"The Journey" begins with a blessing from Roman Catholic Pope Francis. Bocelli, a professing Catholic, told CP that he's excited for audiences to celebrate this holy season of Lent, Good Friday and Easter with this film as a ministry tool for families to reflect on their faith. 
"For me, it's been a very spiritual moment/experience. I really hope that people watching this movie can find a new, deeper hope and faith," Bocelli told CP on the red carpet at the film's New York premiere. "I really believe that has been an amazing journey for us," Veronica added. "And I really hope that we can share these emotions of riding this horse with friends along the journey that brought us from Rome to home."
Tickets for "The Journey" can be purchased online.