Angelina Jolie Hails Christian War Hero for Teaching Her to 'Rise Above Adversity' in Wake of Cancer Scare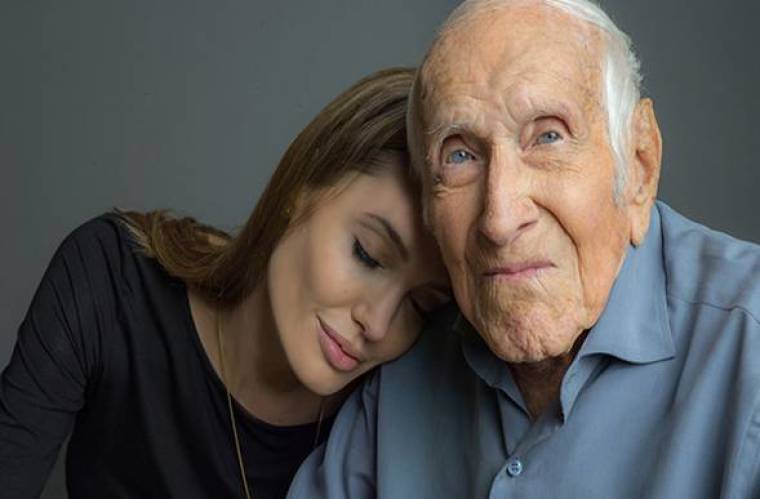 Angelina Jolie has reflected on what the late Christian war hero Louis Zamperini taught her about overcoming adversity in the wake of her recent health scare.
The 40-year-old "Unbroken" director had her ovaries and fallopian tubes removed last month as a cancer prevention measure, two years after undergoing a preventive double mastectomy.
She admitted that the decision to have a laparoscopic bilateral salpingo-oophorectomy was "not easy" and recently spoke about how facing any kind of adversity can make one "stronger" while recalling the heroic story of Zemperini, an Olympian runner-turned-American World War II prisoner of war survivor.
"I do believe in the old saying 'What does not kill you makes you stronger.' Our experiences, good and bad, make us who we are. By overcoming difficulties, we gain strength and maturity," Jolie told Elle magazine. "Like many of the greatest human stories, it is about the capacity of regular men and women to rise above adversity. It reminds us never to give up, and that having the spirit to fight is what really matters. It is powerful because it speaks to the potential inside all of us."
Jolie, a married mother of six, lost her mother, grandmother and aunt to cancer. A blood test revealed that she too carried a mutation in the BRCA1 gene, which gave her an estimated 87 percent risk of developing breast cancer and a 50 percent risk of ovarian cancer.
The Academy Award-winning actress documented her ordeal in an emotional New York Times Op-Ed, which critics say will help raise cancer awareness and potentially save lives.
Jolie's unlikely bond with Zamperini, who died of pneumonia at age 97 last year, led her to create "Unbroken," a film about the born-again Christian's remarkable life journey, and it would also propel her closer to faith.
While directing one particular scene in New South Whales, Australia, Jolie, who is not religious, found herself in desperate need of a miracle and she later discovered the ultimate power of prayer.
"She was not a person of faith and had never prayed before but she found herself at the very last scene of the movie ... they needed sunlight to shoot this very important scene and there had been a storm that had been going for a while," Zamperini's daughter Cynthia Garris said at a press conference in New York last year.
"[Angelina] said, 'I don't know what I'm going to do so I'll do what Louie would do.' She got on her knees and she prayed for a miracle … everybody saw it," she recalled. "It stopped raining. The sun came out, a rainbow came out, she said, 'let's get this take' [and] they shot the take. When she said 'cut,' it started to rain again."
The extraordinary moment, according to Garris, was a testament to her late father's faith and the ability of his compelling story to impact even the most irreligious people.
"She was moved by my father's faith to try that, and that's what he wants for people to get from the movie," Garris explained. "I'll tell you, when my father died we were all with him in the hospital. [Angelina] came about 45 minutes later and she was pointing above saying 'I know he's with us, I know he's there with God.' I think maybe in God's plan for Angelina, she was supposed to find Louie and make this movie to find her way to a life that would encompass the Almighty."
Zamperini survived a number of horrendous ordeals throughout his life, including surviving in a raft in the Pacific Ocean for 47 days after a near-fatal plane crash. He also endured unspeakable torture at the hands of the Japanese navy after being sent to a P.O.W. camp.
With the help of his faith, the born-again Christian was able to overcome PTSD and eventually extend forgiveness to his Japanese captors.
"My father was such a wonderful example to me when I was a child and I became a Christian as a child just by listening to his stories and asking him questions about the Bible. He just stayed so true to his faith, unwavering until the moment he died and went to glory," Garris said.
It was after reluctantly attending a crusade led by evangelist Billy Graham in 1949 that Zamperini began his Christian walk.
"Billy meant a whole lot to my Dad because it was when he met Billy Graham and heard him speak that his life had really changed for the better," said Zamperini's son Luke. "Billy introduced my father to his Lord and Savior Jesus Christ and that is what turned my father's life around finally and completely to a life of service and turned him into the happy, joyful person he was after going through the Post Traumatic Stress Disorder that he went through during and after WWII."