Ann Coulter: GOP Being Ruined By 'Hucksters, Shysters' Filling Their Own Ego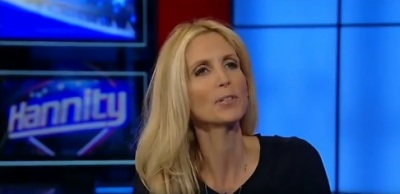 Conservative television personality Ann Coulter said in a recent interview that she believes the GOP political party is being plagued by "hucksters" and "shysters" wishing only to fulfill their large egos by running for office. Coulter pointed specifically to former political candidates Todd Akin and Newt Gingrich as examples, and also mentioned Liz Cheney, who is currently seeking to unseat Wyoming's Republican Senator Mike Enzi in the 2014 election.
"The problem is we have hucksters, shysters, people ripping off the Republican Party for their own self-aggrandizement, for their own egos, to make money," Coulter told Fox television host Sean Hannity on his talk show, "Hannity." "I would put Todd Akin, Newt Gingrich, Liz Cheney, Mark Sanford all in the same boat, and the consultants who persuaded Linda McMahon and John Raese to run."
Coulter went on to discuss Liz Cheney, daughter of former Vice President Dick Cheney who is currently seeking to unseat Wyoming's incumbent Republican Senator Mike Enzi, who has held the position for the past three terms. Although the election won't take place until 2014, Cheney and Enzi have already become embroiled in a bitter race that has many conservatives attacking Cheney for trying to unseat a well-respected GOP politician.
"Why should we be having - and I love Liz Cheney - but why should we be having a rancorous primary against a good Republican senator other than for Liz Cheney's ego?" Coulter questioned. Hannity was quick to defend Cheney, saying that she was not one of the "shysters" that Coulter was describing.
Coulter's primary purpose on Monday's airing of "Hannity" was to promote her new book, entitled Never Trust a Liberal Over Three – Especially A Republican. Coulter explains to Hannity that the book addresses why Republicans have lost elections in recent years, especially Senate elections, arguing that some politicians take on the "Republican" title for their own ego instead of actually caring about the political party. Coulter has become famous first as a talking head on political talk shows and then as a conservative author and columnist.
"This is not a party that seems overly concerned with winning elections," Coulter told Hannity. "We are not concentrating on winning. We are allowing shysters to take advantage of the Republican Party."