Anne Graham Lotz: America Is Entering 'Last Stage Into the Abyss of God's Judgement'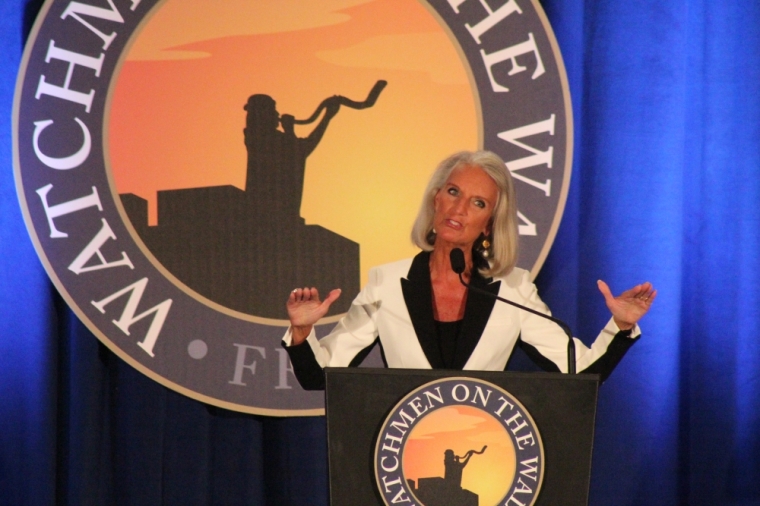 WASHINGTON — Billy Graham's daughter, renowned evangelist and author Anne Graham Lotz, told a gathering of pastors on Thursday that the United States has entered the "last stage" of the "downward spiral" into the bottomless chasm that is God's judgement.
Lotz, the founder of AnGeL Ministries, the new chairwoman of the National Day of Prayer and the author of the new book, The Daniel Prayer: Prayer That Moves Heaven and Changes Nations, was a featured speaker at the Family Research Council's 2016 "Watchmen on the Wall" conference.
During her 25-minute speech on the "urgency to reach the lost," Lotz warned that God is abandoning America because the country has embraced sexual immorality and entered into an era of "sexual depravity."
As Lotz has long called on Christians to repent for the sexual revolution and the advancement of LGBT propaganda, Graham asserted during her speech that educating children about evolutionary theory is another reason why God is issuing judgement on America.
Lotz, who has previously said that she believes Jesus Christ will return during her lifetime, quoted the first chapter of Romans to explain that the Bible explicitly warns against exchanging God for "men, birds, animals and reptiles."
Lotz cited Romans 1:18-23.
"'The wrath of God is being revealed from Heaven against all the godless and wickedness of men who suppress the truth by their wickedness.' That is what is happening in America," she explained. "'For although they knew God, they neither glorified Him as God or gave thanks to Him because their thinking has become darkened. Although they claim to be wise, they became fools that exchanged their moral God for images made to look like mortal men, birds, animals and reptiles.'"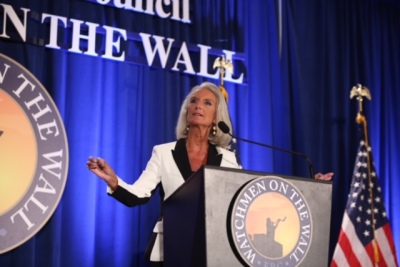 Lotz reasoned that Romans 1:23 is referring to evolution.
"That's evolution and our schools teach evolution as fact and Creationism, if it is mentioned, it is sort of a fringe theory. Therefore, God gave it over," Graham said. "God just backs away and gives us over in His first path in this downward spiral to sexual immorality. That is the sexual revolution, That is free sex, which actually is very expensive."
"When we refuse to repent of our sin and turn to God, then in [Romans] verse 26, God gives us over to sexual depravity. Which is what we see all around us today," she added. "Then, we refuse to repent of our sin and turn to God."
Lotz then cited Romans 1:28 to argue that America has entered in the "last stage of this downward spiral into the abyss of God's judgement."
"The last step, 'furthermore, since they did not think it worthwhile to retain the knowledge of God, he gave them over to a depraved mind, to a reprobate mind,'" Lotz recited.
"He gives us over to ourselves and I believe America is in the last stage of this downward spiral into the abyss of God's judgement."
Lotz contended that things are only going to get worse for America.
"God is backing away from America. He has said again and again and again, 'If you forsake me, I will forsake you. If you abandon me, I will abandon you.' So, we see God abandoning America as we shake our fist in his face and insist on our immorality and all the things we are doing," she continued. "We have lost the ability to think straight, no pun intended. God backs away and removes His hand of blessing and His hand of favor and His hand of protection."
Lotz pointed out the biblical example seen in God's judgement on the nation of Judah, which He loved and eventually destroyed through King Nebuchadnezzar after the nation failed to repent turn back to God.
"He did it slowly. In the end, when Judah defied Him and insisted on her right to sin, he moved Nebuchadnezzar to destroy the walls of the city, burn the city with fire," she explained. "The people he didn't take into captivity, he slaughtered in the streets and Judah was no more. And if God would do that to the nation that He loved, what would He do to America?"
Lotz stressed that although God is issuing his judgement on America, it is not too late for Christians and others to repent and pray.
"God so loved the world that He gave His only begotten son so that whosoever would believe in Him would not perish but have everlasting life. But if you don't believe in Him, you will perish," she said. "There are people all around us who are perishing. … You are born into the human race as a sinner. All are sinners and if we don't do anything about it and we step into eternity still in our sin, we come under the judgement, the whole wrath of God. We are separated from Him forever and that is Hell."
"That is not something I am telling you, don't misunderstand me, that is just the Gospel," she added. "That's why God sent Jesus."