Another Jewish Cemetery Vandalized, Now in Pennsylvania
More than 100 headstones were vandalized at a Jewish cemetery in Philadelphia, Pennsylvania, over the weekend, days after more than 150 headstones were found damaged in St. Louis, Missouri, according to reports.
Over 100 headstones were found overturned early Sunday at Mount Carmel Cemetery in Philadelphia, The Associated Press reports.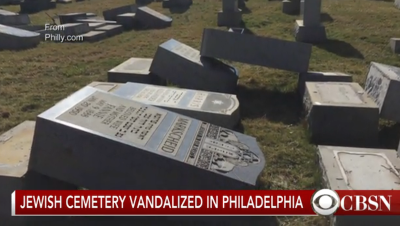 According to a police spokeswoman, the cemetery was inspected and approximately 100 additional headstones were found to be knocked over, apparently sometime after dark Saturday, and the police Northeast Detectives Division will conduct a criminal mischief-institutional vandalism investigation.
"I'm hoping it was maybe just some drunk kids," Aaron Mallin, who discovered the damage while visiting his father's grave, was quoted as saying. "But the fact that there's so many, it leads one to think it could have been targeted."
"My heart breaks for the families who found their loved ones' headstones toppled," Philadelphia Mayor Jim Kenney said in a statement. "Hate is not permissible in Philadelphia."
Israeli Foreign Ministry spokesman Emmanuel Nahshon responded to the report on Twitter. "#Philadelphia Jewish cemetery desecration is shocking and a source of worry. Full confidence #US authorities catch and punish culprits."
"It's just very heartbreaking," the World Jewish Congress tweeted.
The Anti-Defamation League has offered a $10,000 reward for information leading to the arrest and conviction of those responsible.
A week earlier, more than 150 headstones were damaged at Chesed Shel Emeth Society Cemetery in suburban St. Louis, after which Muslim Americans raised over $108,000 to help repair the cemetery. Now, they are trying to raise money for the repairs in Philadelphia, according to UPROXX.
After the vandalism in St. Louis, Vice President Mike Pence addressed a crowd of about 1,000 people in the city.
"From the heart, there's no place in America for hatred or acts of prejudice or violence or anti-Semitism," Pence said, according to The Washington Post. "I must tell you, the people of Missouri are inspiring the nation by your love and care for this place, for the Jewish community in Missouri, and I want to thank you for that inspiration, for showing the world what America is really about."
On Friday, Pence spoke also to the Republican Jewish Coalition. "If the world knows nothing else, the world will know this: America stands with Israel," Pence said, according to Chicago Tribune.
Pence said U.S.-Israel relations were growing stronger under the Donald Trump administration.