Archaeology Discovery: Rare Fabrics From King Solomon, King David Time Reveal Biblical Fashion
Archaeology Discovery: Rare Fabrics From King Solomon, King David Time Reveal Biblical Fashion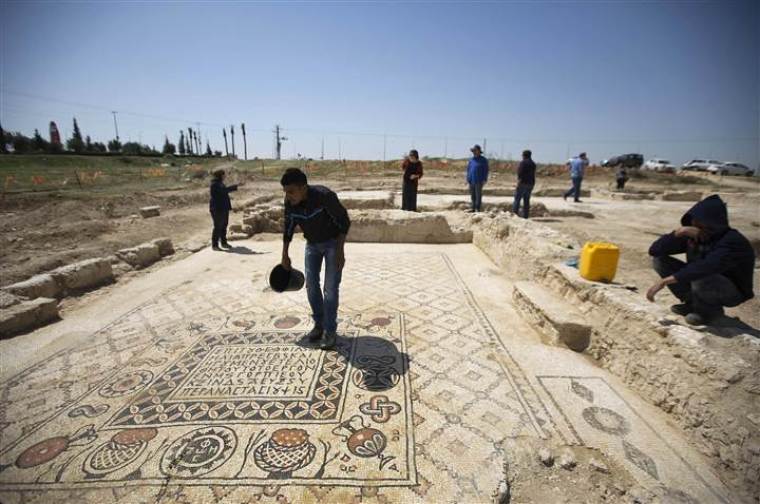 Israeli archaeologists recently announced the discovery of rare fabrics dating back to the biblical times of King David and King Solomon.
The fabrics were discovered by Tel Aviv University archaeologists as they excavated the Timna copper mines in southwestern Arabah.
Dr. Erez Ben-Yosef, who oversaw the excavation, said in a press release on Wednesday that the 3,000-year-old discovery sheds light on ancient textile trade and biblical fashion.
"Most of the fragments were tiny, some only 5 by 5 centimeters, but some were big," Yosef told Haaretz this week.
"Timna is a unique site, practically unmatched in Israel or anywhere else in the Levant," Yosef added. "The extreme aridity at Timna preserves organic remains that couldn't have been preserved anywhere else, not at Megiddo or Lachish or Hatzor, and not even anywhere else in the Arava Valley."
Along with varying shapes and sizes, archaeologists also discovered a wide range of fabric colors, including green, red, and gold.
"We found simply woven, elaborately decorated fabrics worn by the upper echelon of their stratified society. Luxury grade fabric adorned the highly skilled, highly respected craftsmen managing the copper furnaces. They were responsible for smelting the copper, which was a very complicated process," Yosef added.
The university added in a statement that the rare weather conditions of the Timna Valley have allowed for such archaeological treasures to remain well-preserved.
"The arid condition of the mines has seen the remarkable preservation of 3,000-year-old organic materials, including seeds, leather and fabric, and other extremely rare artifacts that provide a unique window into the culture and practices of this period," Tel Aviv University said.
"The textiles also offer insight into the complex society of the early Edomites, the semi-nomadic people believed to have operated the mines at Timna," it added.
Vanessa Workman, also from the excavation team, told Sci-News that along with locally-produced materials, archaeologists discovered linen, which likely came from northern Israel.
"We found linen, which was not produced locally. It was most likely from the Jordan Valley or Northern Israel," Workman told the media outlet.
The complex material of the fabrics "tells us how developed and sophisticated both their textile craft and trade networks must have been," Workman added.
Archaeologists have found priceless antiquities in the Timna Valley since they began excavation in 2013, when archaeologists confirmed they had discovered the site of King Solomon's copper mines.
Along with fabric, excavators have also discovered metals, ceramics, and food, including dates and grapes at the site of the dig, The Telegraph reports.
Yosef told The Telegraph in 2013 that while it was originally believed that the Timna Valley mines were built by ancient Egyptians, it is now believed that they were used three centuries later during King Solomon's era.
"It's entirely possible that David and Solomon existed and even that they exerted some control over the mines in the Timna Valley at times," Yosef told the media outlet three years ago.