Archbishop Desmond Tutu Wins Prestigious 2013 John Templeton Prize
Archbishop Desmond Tutu Wins Prestigious 2013 John Templeton Prize
Desmond Tutu, the former Anglican archbishop of Cape Town, South Africa, has won the prestigious 2013 Templeton Prize, known as "the most significant award in the field of spirituality and religion," joining the ranks of the Rev. Billy Graham and Blessed Mother Teresa.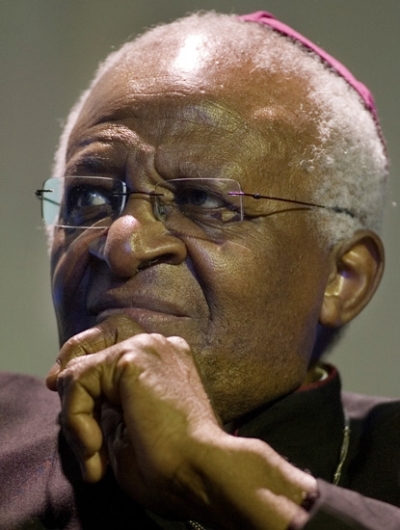 "By embracing such universal concepts of the image of God within each person, Desmond Tutu also demonstrates how the innate humanity within each of us is intrinsically tied to the humanity between all peoples," a video statement by The Templeton Foundation says.
"Desmond Tutu calls upon all of us to recognize that each and every human being is unique in all of history and, in doing so, to embrace our own vast potential to be agents for spiritual progress and positive change. Not only does he teach this idea, he lives it."
Tutu, 83, became famous when he helped South Africa fight apartheid in the 1970s and 1980s, speaking out for equality and justice in the divided nation. The Christian leader is receiving the award "for his life-long work in advancing spiritual principles such as love and forgiveness which has helped to liberate people around the world," the Templeton website says.
The archbishop has also won the 1984 Nobel Peace Prize for his efforts.
The award, which also comes with a $1.7 million bonus, is given annually by the John Templeton Foundation with the aim to "identify 'entrepreneurs of the spirit' – outstanding individuals who have devoted their talents to expanding our vision of human purpose and ultimate reality."
The foundation reminds readers that Tutu served as chairman for the Truth and Reconciliation Commission, which employed a policy of confession, forgiveness and resolution that helped bring South Africa out of racial repression and toward democracy.
Last year, the award went to the Dalai Lama, the spiritual leader of Tibet. It was the first time in more than a decade that it was awarded to an international spiritual and political figure. Other famous people who have won the award include Graham and Mother Teresa, who first won the Templeton Prize in 1973.
"When you are in a crowd and you stand out from the crowd it's usually because you are being carried on the shoulders of others," Tutu said when receiving the award. "I want to acknowledge all the wonderful people who accepted me as their leader at home and so to accept this prize, as it were, in a representative capacity."
Tutu remains controversial in some circles for disagreeing with conservative Anglican positions when it comes to gay people, insisting that discrimination based on sexual orientation is as much of an injustice as racial discrimination.
2013 John Templeton Prize Video: