Archie Comics Applauded for Promoting Same-Sex Marriage
Venerable Comic's New Main Character 'Marries' Gay Partner
Archie Comics Publications, Inc. has announced the enthusiastic reception of a new storyline presented in its "Life With Archie" series involving a newly-introduced main character, Kevin Keller, getting married to his gay partner, an Iraq war vet.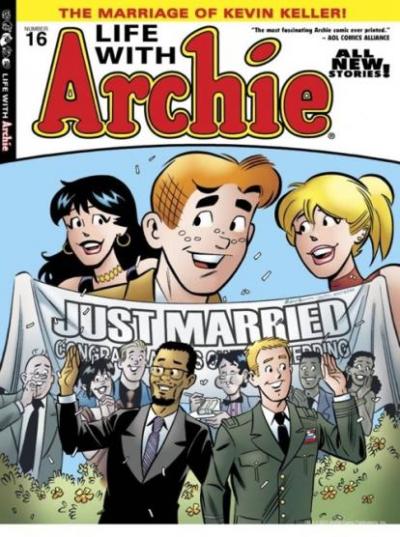 "Archie Comics has been making a valiant effort to keep with the times and stay relevant," Time.com writes in its report on "Life With Archie" number 16 featuring Keller (released this week) "walking down the aisle, surrounded by friends and family, finally tying the knot" with his African-American partner, Clay Walker, who is a doctor in the series. 
The general tone of the gay character and the same-sex nuptials are welcomed and treated as normal in the world of Riverdale, where the "Archie" stories take place.
"The introduction of Kevin is just about keeping the world of Archie Comics current and inclusive. Archie's hometown of Riverdale has always been a safe world for everyone. It just makes sense to have an openly gay character in Archie comic books," Jon Goldwater, Archie Comics Co-CEO, told CNN last year, when Keller was introduced. 
Archie Comics has experienced a surge in readership since Keller was introduced to the series, according to Goldwater. Although there have been a handful of canceled subscriptions, "hundreds and hundreds" of new subscribers have latched on to the series, the Co-CEO said. 
Despite the "hundreds and hundreds" of new subscribers, not everyone is onboard with the "Archie" series' challenge to traditional marriage. 
One reader named "Gary" reacting to news on Fox News Radio, wrote: "You have got to be kidding me. I am a 50 year old Cold War and Gulf War I veteran living in Europe and I can not believe the junk that is being stuffed down Americans throats — everyday."
Drew Dixon, editor at Christ and Pop Culture, an online publication that discusses Christian reaction to and engagment with popular culture, told The Christian Post that people should not really be shocked by this shift.
"If we as Christians are committed to reaching the world for Christ, we have a responsibility to understand the people who inhabit it. If we are exercising that responsibility faithfully, we really shouldn't be surprised by these sorts of things," he said.
"I think the only reason that this is a news story is because Archie is such an iconic figure in the world of comics. Truth be told, gay marriage is legal in enough states now that most of us [are] likely to know someone who is married to someone of the same sex and that shouldn't suprise us — 'Archie' comics are simply recognizing an undeniable aspect of our culture."
As for Archie Comics fans who may feel conflicted over the publication's promotion of a gay lifestyle, Dixon suggested that disengaging might not actually be the best reaction. 
"Christians aren't crossing any lines by reading Archie comics, not any more so than they would be by going to a grocery store or a bank with a homosexual manager. When [it] comes to pop culture, I think Christians often miss the bigger picture. While the Bible is clear about the sinfulness of homosexuality, it's also clear about our primary calling as Christians to love our neighbor and proclaim the gospel," Dixon said.
"As we think about how to do that, we need to recognize that the culture surrounding us differs from us significantly on important issues like marriage. We need to think carefully about how we can simultaneously promote the sanctity of marriage in our local churches while still reaching out to, loving, and serving the homosexual community."
Dixon, also a pastor who earned his Masters of Divinity degree from The Southern Baptist Theological Seminary, noted that Jesus engaged socially unpopular figures during his earthly ministry, such prostitutes and tax collectors.
"I think when our first reaction to stories like this is to boycott products that present a worldview contrary to our own we miss a pivotal opportunity to engage the world around us for Christ. When we choose to boycott things like this we are sending a message to the homosexual community — we don't agree with you and we don't want to hear your side. Who knows, perhaps reading 'Archie' might help us understand better where some homosexuals are coming from so that we might be better equipped to serve them, love them, and share the gospel with them in the real world," he said. 
Allan Hartley, a Christian comics pioneer, worked for Archie Comics from 1966 to 1993 and always sought to influence the series with his values, but was eventually discouraged from doing so. "I knew God was in control, so I respected my publisher's position and naturally complied," he reportedly said of his experience. Hartley, who also worked at Marvel Comics, died in 2003, at the age of 81.
Archie Comics most certainly is not alone in its introduction or exploration of homosexual characters. DC Comics has revamped Batwoman as an "LGBT" character to be more inclusive, a move Archie Comics Co-CEO Goldwater said the publication "should be proud of." He added, however, that Archie Comics "paved the road" and "had the courage to be out front."