Aretha Franklin Falls 'Gravely Ill,' Family Asks for Prayer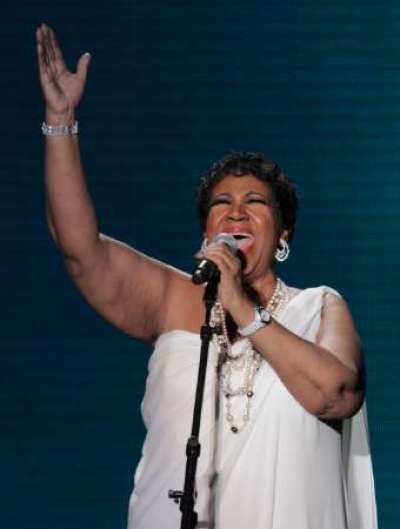 The queen of soul, Aretha Franklin has fallen "gravely ill," according to her friends and family.
According to Showbiz411, Franklin's family is "asking for prayers and privacy" as she battles an unknown illness.
"I am so saddened to report that the Queen of Soul and my good friend, Aretha Franklin is gravely ill. I spoke with her family members this morning. She is asking for your prayers at this time. I'll have more details as I'm allowed to release," WDIV Local 4 anchor Evrod Cassimy Tweeted on Monday.
Further details about her health have not been released but friend of the "Respect" singer, journalist Roland Martin shared an older photo of the two of them which confirmed the reports.
"Many of you are asking me to confirm the health status of @ArethaFranklin. Folks, I've known for several months. The Queen is surrounded by loved ones. That's all I will say for now. Please keep her, the family and her longtime support staff in your prayers," Martin shared.
Franklin was reportedly diagnosed with cancer in 2010. She denied those reports.
"I don't know where 'pancreatic cancer' came from," Franklin told Access Hollywood in 2011. "I was sitting there reading the newspaper and it was saying someone in my family said that. No one in my family ever said that to anybody."
Despite combating different health issues throughout the years, she continued to perform up until 2017. Her last performance to date was in November for the AIDS Foundation in New York.
Despite stating she would retire from touring in 2017, the music legend had tour dates scheduled for March of this year. The dates were canceled for the New Orleans Jazz & Heritage Festival due to doctor's orders.
"Aretha Franklin has been ordered by her doctor to stay off the road and rest completely for at least the next two months," Franklin's management shared with Rolling Stone. "She is extremely disappointed she cannot perform at this year's New Orleans Jazz & Heritage Festival as she had expected and hoped to."
Franklin is an 18 time Grammy Award winner, known for her hits such as "Natural Woman," "I Say A Little Prayer" and "Chain of Fools."
The 76-year-old was the first woman to be inducted into the Rock and Roll Hall of Fame and in 2010, Rolling Stone named her "the greatest singer of all time."
In 2012, she was inducted into The Gospel Music Hall of Fame along with fellow mainstream musice legends, Dolly Parton and Elvis Presley.
Franklin has previously spoken about her singing abilities being a gift from God.
"Being a singer is a natural gift. It means I'm using to the highest degree possible the gift that God gave me to use," she said previously, according to Yahoo! reports. "I'm happy with that ... My faith always has been and always will be important to me."