Arkansas Gov. Asa Hutchinson defends veto of bill to ban sex changes for kids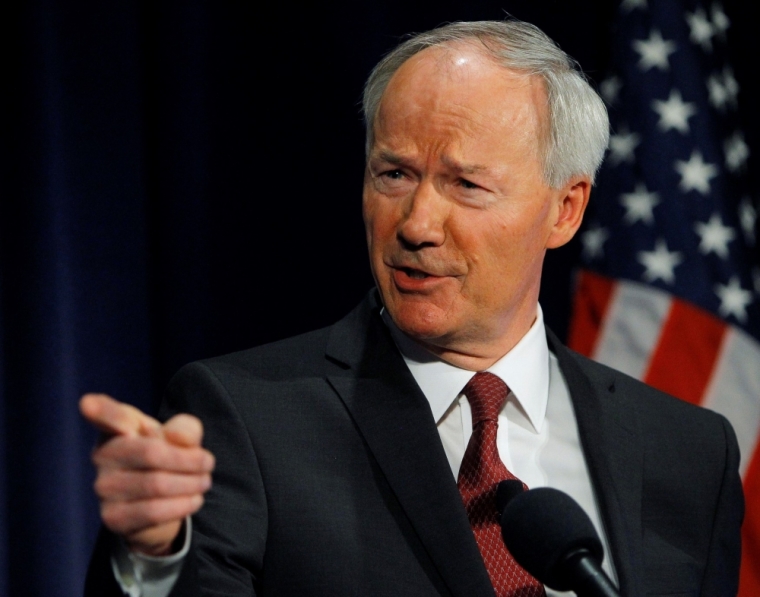 The Republican governor of Arkansas defended his decision to veto a bill that would ban puberty blockers, cross-sex hormones, and genital mutilation of children age 18 and younger, arguing that the legislation constitutes government overreach. 
Gov. Asa Hutchinson appeared on Fox News' "Tucker Carlson Tonight" Tuesday, one day after he vetoed House Bill 1570, also known as the "Save Adolescents from Experimentation Act." Host Tucker Carlson began the interview by describing Hutchinson as "pro-choice on the question of chemical castration of children." 
Hutchinson responded by claiming that Carlson's portrayal of the bill that he vetoed "did not accurately represent the bill."
"If this had been a bill that simply prohibited chemical castration, I would have signed the bill," he asserted.
"This bill was overbroad. It was extreme. It went far beyond what you just said," Hutchinson added. "This … is the first law in the nation that invokes the state between medical decisions, parents who consent to that, and the decision of the patient, and so this goes way too far."
Hutchinson complained that the bill "doesn't even have a grandfather clause," which means that "those young people that are under hormonal treatments … may have to be cut off from it."
Carlson followed up by asking, "Why do you think it's important for conservatives to make certain that children can block their puberty, be chemically castrated? Why is that a conservative value?"
Hutchinson replied: "You have parents involved in very difficult decisions" and "physicians that are involved in these decisions."
The governor then cited his desire to preserve a "limited role of government" as the reason for vetoing the bill. "Are we as a party abandoning a limited role of government in saying 'we're going to invoke the government decision-making over and above physicians, over and above healthcare, over and above parents in saying, 'you can't do that?'"
Carlson suggested that Hutchinson had failed to study the topic adequately before pointing to existing research finding that "depression and the urge to self-harm and suicide is a component, is a side effect of taking these hormones."
"Why is that responsible medicine to do that to children? Why would you support something like that?" Carlson asked.
The governor pushed back on the accusation that he hadn't fully studied the topic, explaining that he spoke to "experts" and faith leaders before making his decision.
"I'm a person of faith. But at the same time, I'm a person of a limited role of government," Hutchinson asserted. "I signed pro-life bills. I signed many bills that would be looked at as very conservative, but this is one that crosses the line; there's no need for it." 
Carlson asked Hutchinson to elaborate on his implication that he had "seen research that shows the mental health of children who receive puberty-blocking drugs improves."
Hutchinson added: "The research that I have seen shows that these troubled youth, these ones that have gender dysphoria, that they also have depression, they have suicidal tendencies. It's a higher suicide rate than others. And they go to their parents, the parents go to doctors and they try to deal with this very difficult issue." 
"I don't think we should deny them healthcare," he said.
While Carlson acknowledged that Hutchinson was correct about the depression experienced by teenagers with gender dysphoria, he asked the governor to "cite one specific study that shows puberty-blocking drugs improves the condition." 
"I would refer you to the American Academy of Pediatrics. I would refer you to the … physicians that came out in opposition to this bill because they understood the risk to these young people. And if you prohibit the medical care that this bill prohibits, then you're going to endanger these young people even further," Hutchinson argued.
"The research that we have suggests the opposite of what you're claiming. You clearly aren't familiar with the research," Carlson asserted. He asked Hutchinson if he had spoken to any of his state's biggest employers, specifically Tyson Foods and Walmart, before deciding to veto the bill.
Hutchinson insisted that he did not speak to major Arkansas-based corporations about the bill after Carlson repeatedly pressed him about the issue. The governor reiterated his support for limited government, asking, "Do you want to listen to the medical profession, do you want to listen to professional counselors, do you want to listen to parents? Or do you want to leave all of these decisions to the legislators?" 
While Hutchinson vetoed House Bill 1570, both chambers of Arkansas' Republican-controlled state legislature voted to override the veto Tuesday, paving the way for it to become law. Last month, Hutchinson signed into law a measure banning biological males from competing in women's sports in Arkansas. 
Hutchinson is not the only Republican governor to face backlash for declining to sign a transgender-related bill into law. Last month, Gov. Kristi Noem, R-S.D., issued a style and form veto of a bill that would ban biological males from competing in women's sports.
Noem asked the legislature to remove the portion of the bill applying the ban to collegiate athletics, citing concerns about retaliation from the National Collegiate Athletics Association and the likely failure to win a legal challenge against the organization. In the wake of criticism from conservative organizations and the state legislature's failure to adopt her revisions of the bill, Noem signed into law two separate executive orders that would ban biological males from competing in women's sports at the K-12 and collegiate level.