Arkansas lawmakers urged to override veto of bill banning medicalized transitioning of minors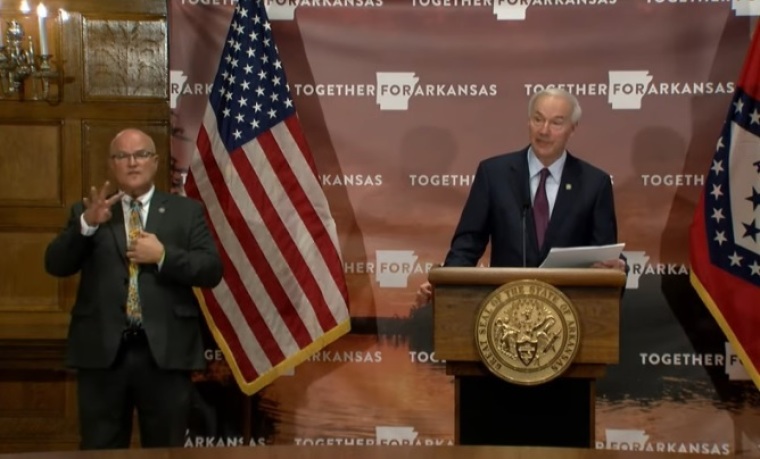 Conservative groups are calling on the Arkansas legislature to override Gov. Asa Hutchinson's veto of a bill aimed at preventing minors from receiving gender reassignment treatments.  
Lawmakers in Arkansas passed the Save Adolescents From Experimentation Act last week, which would ban experimental medicalized gender transition procedures and treatments for minors. Under the bill, banned acts would include prescribing puberty blockers to minors struggling with gender dysphoria. 
Hutchinson vetoed the bill on Monday, explaining at a news conference that he believed the SAFE Act would wrongfully interfere with the medical profession.
"If [the bill] becomes law, then we are creating new standards of legislative interference with physicians and parents as they deal with some of the most complex and sensitive matters involving young people," stated Hutchinson.
The statewide social conservative activist group Arkansas Family Council denounced the veto, calling on the legislature "to step up and override the governor's veto to make sure this good bill becomes law."
"Gender-reassignment surgeries can leave children sterilized and scarred for life. Medical researchers do not know the long-term effects these procedures can have on kids," AFC President Jerry Cox said in a statement. 
"That is why many people equate them with experimenting on children. Arkansas must protect its children from these sex-reassignment procedures."
Cox added that he believes "Arkansas has good lawmakers who strongly support this good bill," arguing that the SAFE Act "is a good bill that will protect children."
"It needs to become law," Cox stressed.
The Family Research Council, a national Christian conservative lobbying organization based in Washington, D.C., also called for a veto override.
FRC President Tony Perkins, a Baptist pastor and longtime activist, said that the "legislature cannot stop now and deprive Arkansas's children of this much needed protection."
"These unscientific, destructive gender transition procedures should not be allowed to interrupt the development of children and irreversibly alter their bodies," stated Perkins.
"The SAFE Act addresses this critical need while also ensuring that the government never uses taxpayer dollars to pay for experiments that will damage the lives of the next generation."
In Arkansas, a governor's veto can be overturned via a simple majority of lawmakers voting to do so. Hutchinson himself has said that a veto override is likely, according to The Associated Press.
Pro-LGBT groups have stated their opposition to the bill. The American Civil Liberties Union vowed to take action to block the bill if it is signed into law. Human Rights Campaign, the nation's largest LGBT rights organization, ran television ads slamming the bill. 
"For Arkansas to prioritize unpopular, discriminatory bills like (the treatment ban) during this legislative session, despite the economic devastation the pandemic has had on the state, shows that they prioritize cruelty to children over actually helping Arkansans," HRC President Alphonso David said in a statement.
Last month, Hutchinson signed a bill into law known as the Fairness in Women's Sports Act. The act bans biological males from competing in athletic contests officially designated for women or girls even if they identify as transgender. 
"This law simply says that female athletes should not have to compete in a sport against a student of the male sex when the sport is designed for women's competition," said Hutchinson in a statement shared with The Christian Post at the time.
"As I have stated previously, I agree with the intention of this law. This will help promote and maintain fairness in women's sporting events."