Arkansas lawmakers pass ban on medicalized gender transitioning of minors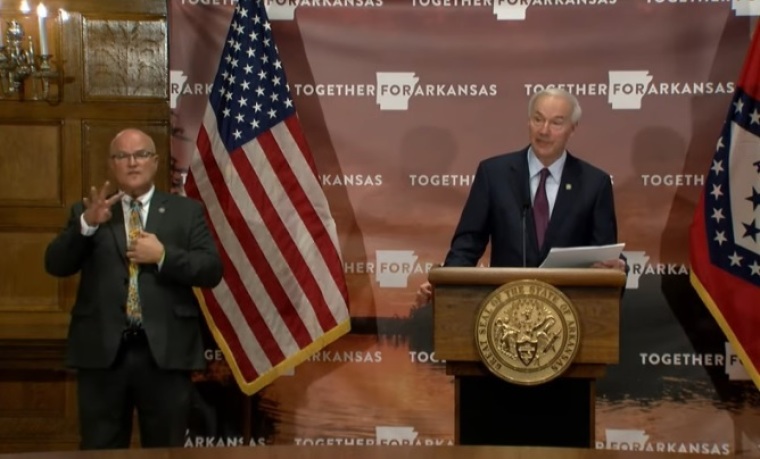 The Arkansas legislature passed a bill that would ban experimental medicalized gender transitioning of minors, including the prescribing of hormones and cosmetic gender surgeries for youth under 18 in the state. 
Passed by both houses, the Save Adolescents from Experimentation (SAFE) Act is the first of its kind to head to a governor's desk for signing.
Gov. Asa Hutchinson, a Republican, has not yet said whether he backs the measure. After the bill passed the state Senate on Monday, Hutchinson must sign the bill or issue a veto within five days of the bill's passing before it becomes law without his signature, according to USA Today. 
If enacted, the law would take effect later this summer. A spokeswoman for the governor said he would review the bill closely and listen to debate but did not indicate when he would make a decision. 
In addition to prohibiting doctors from administering gender transition procedures to minors and referring them to others for such procedures, the law also bars the use of state dollars and medical insurance policies from covering gender transition procedures for minors. The bill also provides legal remedies for minors whom the treatments have permanently harmed. 
The Arkansas House passed the bill on March 10 with a vote of 70 to 22 with 8 abstentions. The state Senate approved the measure Monday with a vote of 28 to 7. 
This year, as noted by the Washington-based Family Research Council, similar bills have been introduced in 18 other states, mostly across the South.
"This bill sets out to protect children in an area where they very much need protection," said Sen. Alan Clark, a Republican who sponsored the bill, before the vote.
During the legislative debate, Clark shared the story of a girl who underwent a double mastectomy as a minor and wound up regretting it later in her life. 
He referred to puberty blockers as "gateway drugs," as most children who go on them continue to take cross-sex hormones.
A recent study published in the United Kingdom that followed a cohort of youth who took puberty-blocking drugs found that the experimental treatments stunted their bone growth. All but one of the 44 children in the study went on to take cross-sex hormones. 
The legislation states that Arkansas "has a compelling government interest in protecting the health and safety of its citizens, especially vulnerable children." The bill further states that "[o]nly a small percentage of the American population experiences distress at identifying with their biological sex."
"According to the American Psychiatric Association, 'For natal adult males, prevalence ranges from 0.005% to 0.014%, and for natal females, from 0.002% to 0.003%,'" the bill reads. 
"[S]cientific studies show that individuals struggling with distress at identifying with their biological sex often have already experienced psychopathology, which indicates these individuals should be encouraged to seek mental health services to address comorbidities and underlying causes of their distress before undertaking any hormonal or surgical intervention."
The American Civil Liberties Union, a progressive legal organization, has vowed to take legal action to block the bill if signed into law. 
The nation's largest LGBTQ rights group, the Human Rights Campaign, ran television ads over the weekend criticizing the measure. 
"For Arkansas to prioritize unpopular, discriminatory bills like (the treatment ban) during this legislative session, despite the economic devastation the pandemic has had on the state, shows that they prioritize cruelty to children over actually helping Arkansans," HRC President Alphonso David said in a statement.
Last week, Hutchinson signed a bill that prohibits trans-identifying males from competing in women's athletics. Last Friday, he signed another bill to provide conscience protections for healthcare providers, payers and institutions who may object to treatments such as abortion or sex-change surgeries.
Similar bills are also being considered across the country. States are following Idaho's lead after the Gem State last year enacted two bills: one requiring that high school and collegiate athletics be separated by biological sex and another requiring vital statistics in state record-keeping to be maintained based on sex. 
Last year, a measure aimed at banning the medicalized gender transitioning of minors failed to pass in South Dakota due in part to transgender activism and the influence of the Chamber of Commerce.