'Driving a radical social agenda': Conservative groups denounce Rachel Levine's confirmation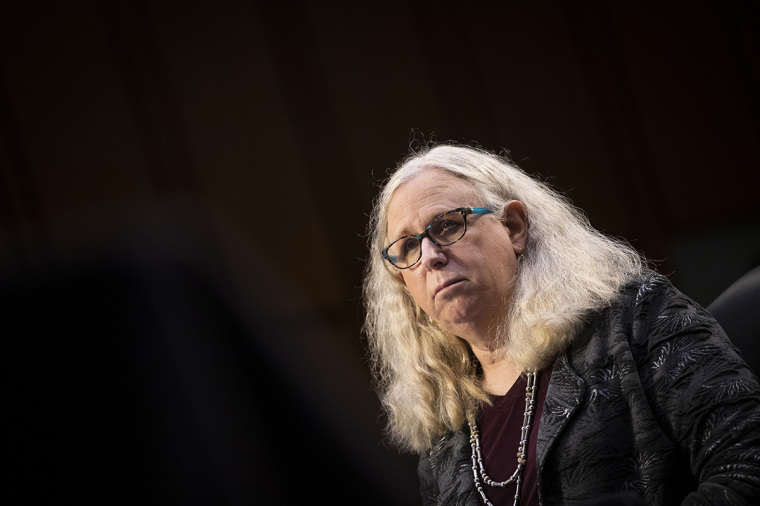 Conservative groups have denounced the Senate's confirmation of Dr. Rachel Levine to be assistant secretary of health at the U.S. Department of Health and Human Services. President Joe Biden nominated Levine for the position, in part, because he would be the first openly trans-identifying individual to serve as a federal official. 
Levine, who was born Richard Levine and formerly served as Pennsylvania Health Secretary, was confirmed by the Senate on Wednesday in a vote of 52-48.  
In remarks delivered before the vote, Senate Majority Leader Chuck Schumer, D-N.Y., called the Levine confirmation an important milestone on behalf of the transgender community.
"As transgender Americans suffer higher rates of abuse, homelessness, and depression than almost every other group, it's important to have national figures like Dr. Levine who, by virtue of being in the public spotlight, will help break down barriers of ignorance and fear," Schumer said.
"The historic nature of her nomination should not be lost on anyone, but Dr. Levine thoroughly deserves to be confirmed on the strength of her qualifications. Despite several attacks on her gender identity over the past year, Dr. Levine has stayed laser-focused on helping the state of Pennsylvania manage and respond to COVID."
However, many socially conservative groups like the American Principles Project have denounced Levine's confirmation, saying in part that the appointment will lead to a backlash against Democrats.
APP President Terry Schilling explained that he believed the Levine confirmation was "historic" in that "the position of assistant secretary for health will be filled by someone who has openly and vocally advocated for allowing children to undergo sex-change procedures."
"But while President Biden and Democrats may have fooled voters last fall into believing such an extreme position wasn't a part of their agenda, they will not be able to do so next time around," Schilling said.
"Every Democrat in the Senate is now on record as supporting childhood sex changes, and they will have to answer for it to their voters."
Autumn Leva, vice president for strategy at Family Policy Alliance, released a statement saying that the confirmation was proof that the Biden administration was "driving a radical social agenda and continuing a hard left turn away from American families."
Leva referenced the confirmation of California Attorney General Xavier Becerra as head of the Department of Health and Human Services as another example of this development.
"During his time as a U.S. representative and attorney general in California, Mr. Becerra demonstrated his extreme positions on abortion and opposing religious freedom — even for nuns and pregnancy resource centers," Leva said.
"Now, Dr. Levine joins Becerra at the Health Department despite having openly advocated that even young children should be able to take experimental hormones to 'transition' to the opposite sex — and that parents shouldn't intervene."
Travis Weber, vice president for policy and government affairs at the Family Research Council, said in a statement that "Levine may be the most extreme radical ever confirmed by the Senate."
"During his confirmation hearing, he refused to answer when Senator Rand Paul asked him directly whether transgender hormones or surgery for minors met the international definition of abuse," Weber added.
"Like embattled New York Governor Andrew Cuomo, Levine also forced COVID-19 patients out of hospitals and into nursing homes, and defended the action in the face of criticism even as his own mother was quietly removed from a nursing home."
Weber also warned that Levine "will exercise his authority to punish parents and people of faith who object to his anti-life, anti-family agenda."
"Levine's crusade against religious liberty would only be made worse by bills like the Equality Act or Fairness for All, both of which HHS would have a hand in implementing," he added.