Arkansas passes universal school choice program, bans teaching of sexuality before 5th grade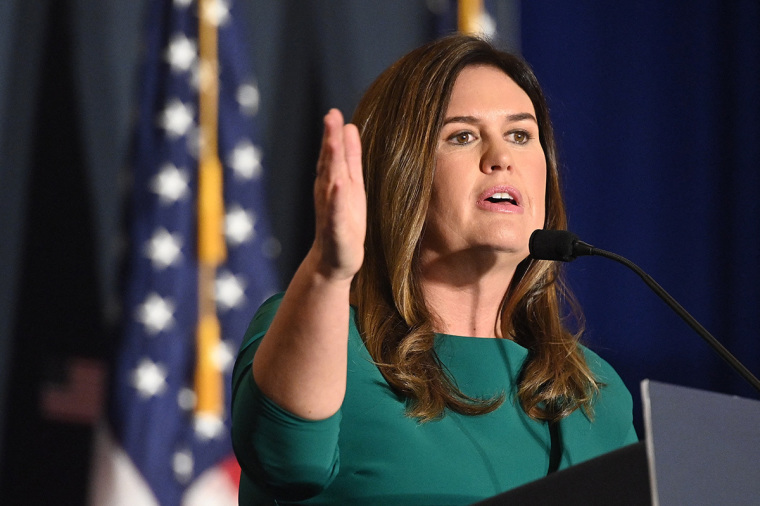 Arkansas Gov. Sarah Huckabee Sanders signed a sweeping education bill into law Wednesday, becoming the fifth state to enact a universal school choice program. The law also bans certain topics from being taught in public classrooms.
The legislation, Senate Bill 294, also known as Arkansas LEARNS Act, passed the state Senate by a vote of 26-8 Tuesday. 
The bill includes a plan for the state to adopt a universal school choice program by the 2025-2026 school year. Students who have disabilities, are facing homeless, attended a failing school in the previous school year, or have parents who are active duty military are eligible to receive vouchers for the 2023-2024 school year. The vouchers will be known as "Educational Freedom Accounts." 
Under the bill, education funding is tied to students, giving them 90% of what schools receive per student in state funding to support their private school or homeschool education. It also calls for a starting salary of $50,000 for teachers, placing Arkansas among the states with the highest minimum teacher pay. 
Arkansas joins four other states — Arizona, Iowa, Utah and West Virginia — that have enacted universal school choice programs.
In addition to promoting school choice, the bill includes a provision for the Department of Education to ensure communications and materials do not "indoctrinate" students with "ideologies," with the legislation specifically mentioning critical race theory. 
The Arkansas LEARNS Act claims that CRT conflicts with the Civil Rights Act of 1964, which prohibits discrimination on the basis of "race, color, religion, sex or national origin."
"The secretary shall amend, annul, or alter the rules, policies, materials, or communications that are considered prohibited indoctrination and that conflict with the principle of equal protection under the law," the bill reads.
The bill also prohibits public school teachers from providing classroom instruction on sexually explicit materials, gender identity and sexual orientation to students before the fifth grade.
"A HISTORIC WIN for parents, teachers, and students that will set the education model for the nation, I'm ready to sign it into law tomorrow and end the failed status quo," Sanders tweeted Tuesday. "Every kid will soon have access to a quality education and path to a good paying job and better life, right here in Arkansas."
Critics of the bill, such as Carol Fleming, president of the Arkansas Education Association, argue that the legislation was rushed and that there was not enough time for parents and educators to ask questions about it.
"The best decisions for our students are made with teachers and parents at the table. Educators have spent countless hours combing through the bill's 144 pages and each time we come away with more questions than answers," Fleming stated in a Tuesday statement, claiming that the bill's author and the governor have ignored requests to meet.
"If supporters of the bill are so confident about it, why are they trying to push it through so quickly without meaningful discussions?" she asked. "What are they afraid of and what's in there that they don't want us to know?"
Proponents of the LEARNS Act believe the reforms will ultimately improve the state's education system. 
"For far too long, Arkansas has languished at the bottom of national education rankings, but that begins to change today," Laurie Lee, chairman of Reform Alliance, a group that advocates for the "highest education options" for students, wrote in a Tuesday statement. 
Lee praised the bill for allowing parents to direct their child's education while still ensuring that funding goes to "approved educational services" and for requiring schools that accept funding to show that "a child is learning and growing in order to keep receiving it."
As The Christian Post reported, Sanders, currently the youngest governor in the country, signed an executive order on her first day of office banning "indoctrination" and CRT in schools. Under the order, teachers can educate students about the "sins" of America's past, but they cannot teach them to "hate this country."
"We have to make sure that we are not indoctrinating our kids and that these policies and these ideas never see the light of day," the Republican governor told "Fox News Sunday" host Shannon Bream in a January interview. 
Sanders also stated that protecting students is what's most "important" to her, arguing that children should not be "trapped in a lifetime of poverty" due to their bank account or ZIP code. 
She also defended her education reform plan, claiming that Arkansas' current budget is not producing the desired results for students and parents, saying the state "can do better" with its money.
"I absolutely think that we can, and we should raise teacher pay and put incentives where they need to be," she said. "We need to reward our hard-working teachers. That's part of the education package that we're going to roll out here in the next couple of weeks. 
"But we also have to make sure that those teachers are delivering for our students and that parents are empowered to make the best decisions possible for how and where their kid can be best educated."