'No child should be trapped in poverty': Sarah Huckabee Sanders defends school vouchers, CRT ban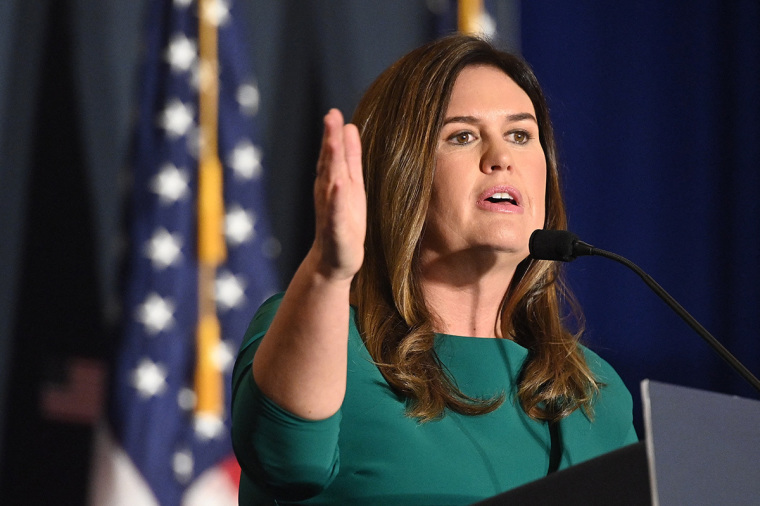 Arkansas Gov. Sarah Huckabee Sanders, the youngest governor in the country, defended her executive order banning indoctrination and critical race theory from school classrooms and her plans to reform the state's education system through school vouchers.
"No child should ever be trapped in a lifetime of poverty because of their bank account or their ZIP code," Sanders told "Fox News Sunday" host Shannon Bream, declaring that parents know best how their children should be educated and how they "can best be put on a path to success." 
The newly elected governor said protecting students is what's most "important" during her interview with Bream, who questioned Sanders about the "Executive Order to Prohibit Indoctrination and Critical Race Theory in Schools." Sanders, 40, signed the executive order on her first day in office.
Bream noted that Democrat Arkansas state House Minority Leader Tippi McCullough and Axios both claimed that schools in the state are not teaching CRT. 
"We have to make sure that we are not indoctrinating our kids and that these policies and these ideas never see the light of day," Sanders said, explaining why she believes the executive order was necessary. 
Sanders added, "We should never teach our kids to hate America or that America is a racist and evil country." Under her executive order, teachers can still teach students about the "sins" of America's past, but they cannot instruct students to "hate this country." 
CRT emerged in academia in the 1970s. According to the book Critical Race Theory, co-author Richard Delgado explains: the movement came about with a "collection of activists and scholars engaged in studying and transforming the relationship among race, racism, and power. ... Unlike traditional civil rights discourse, which stresses incrementalism and step-by-step progress, critical race theory questions the very foundations of the liberal order, including equality theory, legal reasoning, Enlightenment rationalism, and neutral principles of constitutional law."
Sanders raised concerns that the theory presents an overly harsh, inaccurate depiction of the country. 
During the interview with Bream, the governor also outlined her plans for an education reform package to improve students' literacy and career readiness, stating that she intends for Arkansas to have the "largest conservative education reform package" in the next legislative session. 
Bream highlighted some critics' concerns with Sanders' support for school vouchers, which would provide public money for students to attend school outside their ZIP code. The Fox News host also noted that critics are concerned that Sanders wants to roll back the state's income tax, as Arkansas teachers' salaries are among the lowest in the country. 
According to World Population Review, the average salary for teachers in Arkansas is $52,486, compared to Mississippi's average of $47,162, which reported the lowest average teacher salary. 
In response, Sanders said that the state's current budget for education is not producing the results that students and parents deserve, asserting that Arkansas "can do better" with its money. 
"I absolutely think that we can, and we should raise teacher pay and put incentives where they need to be," she added. "We need to reward our hard-working teachers. That's part of the education package that we're going to roll out here in the next couple of weeks. 
"But we also have to make sure that those teachers are delivering for our students and that parents are empowered to make the best decisions possible for how and where their kid can be best educated." 
Sanders is not the only governor that has expressed support for school vouchers. As The Christian Post has previously reported, Texas Gov. Greg Abbott openly endorsed school choice last May. Abbott said parents should be allowed to use taxpayer dollars to send their children to the school of their choice. 
Robert Francis "Beto" O'Rourke, who ran for governor against Abbott and lost, disagreed, citing fears that school vouchers could cripple traditional public schooling in rural areas. 
In July, Arizona adopted one of the country's most expansive school choice laws, ensuring that all K-12 students are eligible for scholarship funds. Families who participate in the program receive $6,500 a year per child for private school, homeschooling, tutoring or micro-schools.