Arkansas to Allow Guns in Churches, Other Places of Worship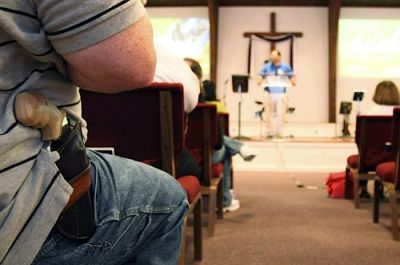 Arkansas will be joining a handful of other states that allow guns in places of worship after the state House approved the Church Protection Act of 2013, which Gov. Mike Beebe is expected to sign into law and which will become effective immediately.
The Church Protection Act, otherwise referred to as Senate Bill 71 (SB71), was approved 85-8 Monday with bipartisan support. The Republican-led Senate approved the bill last week, sending it on to the House with a 28-4 vote.
The final version of SB71 includes an amendment that allows conceal carry permit holders to defend themselves, if need be, in any church or other place of worship – lifting the prohibition outlined in Arkansas' Right-to-Carry law. The bill's lead sponsor was Republican Sen. Bryan King
"It was past time for the legislature to get out of the business of our churches, and it appears that at least 113 legislators agree," Nicholas Stehle said of votes.
Stehle, a member of the board of directors of the advocacy group Arkansas Carry, told Reuters that churches that can't afford private security will now be able "to provide a safe environment for their congregants."
While some Arkansans have expressed concern about guns being allowed in churches, the Church Protection Act does leave it to each respective place of worship to determine who, if anyone, would be allowed to carry concealed guns in the sanctuary.
"A church should be a place of peace and safety and security," Steve Abbott, the lead pastor at First Baptist Church in Siloam Springs, told local media. "I sense it's kind of a reaction to what happened in Connecticut and people probably feel like we need to do something."
Discussions about gun control legislation have been widespread since 20-year-old Adam Lanza shot dead 20 children and six adults at an elementary school in Newtown, Conn., on Dec. 14, 2012. Since then, there have been several cases of gun-related incidents linked to schools.
However, ministry violence statistics collected by Carl Chinn, a Colorado-based security professional who has provided such services in the faith community, show that gun-related crimes at churches are also common.
Chinn's chart, titled "Deadly Force Incidents at Faith-Based Organizations in the United States," indicates that of the recorded 638 DFIs that occurred between Jan. 1, 1999 and Dec. 31, 2012, a gun was present 58 percent of the time.
While Gov. Beebe has stated no opposition to the Church Protection Act, his office indicated that he remains open to discussions with lawmakers and church leaders.
The Church Protection Act states in the Emergency Clause that would make the law effective immediately upon the governor signing it that "personal security is increasingly important" and the act is "immediately necessary" because the Constitution's Second Amendment ensures a person's right to bear arms.