As Christians Abandon Mosul, Pope Francis Prays for End of Persecution in Mideast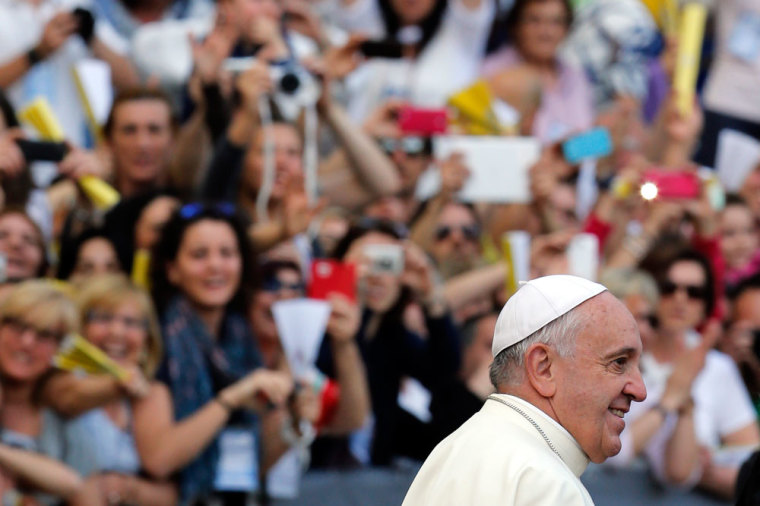 Pope Francis prayed for an end to Christian persecution in the Middle East on Sunday, one day after Christians were forced to flee the village of Mosul in Iraq following threats from the Islamic State of Iraq and the Levant (ISIS), a jihadist militant group.
While leading a moment of silence in St. Peter's Square at the Vatican on Sunday, Francis said that Christians suffering persecution in the Middle East will be the subject of his "constant prayers."
"Violence isn't overcome with violence. Violence is conquered with peace," the pope told the crowd gathered at St. Peter's Square. "Our brothers and sisters are persecuted, they are chased away."
The Catholic leader's plea came one day after thousands of Christian families were forced to pour out of Mosul, Iraq's second largest city with a 6,000-year-old Assyrian history. The families chose to flee to northern Iraq, where they would be protected by Kurdish forces, after members of the Islamic State of Iraq and the Levant demanded that they either pay the "jizya," or tax for being non-Muslim, convert to Christianity, or die.
Members of the jihadist militant group announced the demand on Saturday, reportedly painting the doors of Mosul inhabitants who were Christian. In response, media outlets are reporting that the vast majority of Christians have fled the area, packing up their cars and family members and heading for safer areas in the north.
According to Fox News, while Iraq's Christian population used to be about one million before the U.S.-led invasion in 2003, the number has since diminished to 450,000 as Islamic militants target Christian churches and pressure them into leaving the country.
Recently, Islamic militants have taken over the Chaldean Catholic and Syriac Orthodox cathedrals in Mosul. Chaldean Catholic Patriarch Louis Sako recently penned an open letter to Iraqis, warning them that the disappearance of Christians from the country could result in a serious humanitarian crisis.
"[…] for the first time in the history of Iraq, Mosul is now empty of Christians," Sako's letter read, in part. "Iraq is heading towards a humanitarian, cultural and historical disaster," the patriarch added.
Since June, the ISIS has made significant advancements in gaining security control in both Syria and Iraq. In response to the recent persecution of Christians in Mosul, Kurdish Prime Minister Nechirvan Barzani has asked international humanitarian agencies to set up relief and aid for the thousands of Christian families displaced from their homes.