Asia Bibi Acquitted, Christian Mother Speaks Out After 8 Years on Death Row: 'I Can't Believe It'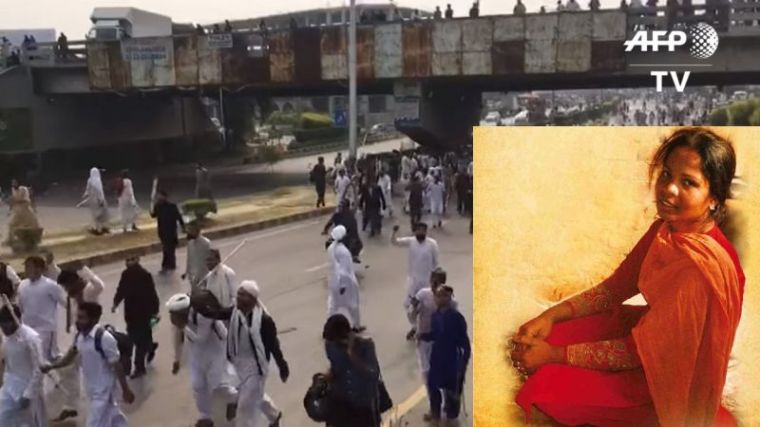 Asia Bibi, the Christian mother of five who has been on death row for blasphemy since 2010, has been acquitted by Pakistan's Supreme Court.
Although the decision was made back on October 8, it was held hidden from the public until its announcement on Wednesday.
"The appeal is allowed. She has been acquitted. The judgement of high court as well as trial court is reversed. Her conviction is set aside," Chief Justice of Pakistan Mian Saqib Nisar declared in the 56-page judgment.
"Her conviction is set aside and she is to be relieved forthwith if not required in other charges," he added.
The ruling related to a 2015 appeal against the death sentence for Bibi, who in 2009 was accused by a group of Muslim coworkers of having insulted the Islamic prophet Muhammad.
The court document explained that it is the onus of the prosecution to prove her guilt beyond reasonable doubt, something which the judges found it had failed to accomplish.
"Keeping in mind the evidence produced by the prosecution against the alleged blasphemy committed by the appellant, the prosecution has categorically failed to prove its case beyond reasonable doubt," the justices found.
Bibi, who has been the subject of campaigns by Islamic radicals in Pakistan calling for her death, could hardly believe that after nearly a decade in prison, she is to be set free.
"I can't believe what I am hearing, will I go out now? Will they let me out, really?" Bibi told AFP by phone from prison. "I just don't know what to say, I am very happy, I can't believe it."
Her lawyer, Saiful Mulook, spoke of the magnitude of the decision:
"The verdict has shown that the poor, the minorities and the lowest segments of society can get justice in this country despite its shortcomings. This is the biggest and happiest day of my life."
Bibi's husband, Ashiq Masih, pointed out that the family knew all these years that the wife and mother was innocent.
"I am very happy. My children are very happy. We are grateful to God. We are grateful to the judges for giving us justice. We knew that she is innocent," Masih declared.
"My wife spent so many years in jail and we hope that we will soon be together in a peaceful place."
Major persecution watchdog groups, such as Open Doors USA, who have been campaigning for Bibi's freedom for years, hailed the verdict.
"We are breathing a sigh of relief today after learning the Pakistani Supreme Court has dropped charges against Asia Bibi, as these charges stemmed from her Christian identity as well as false accusations against her," Open Doors CEO David Curry said in a statement shared with The Christian Post.
"We are hopeful that Pakistan will now take additional steps to offer religious freedom and basic human rights throughout the country," he added.
The British Pakistani Christian Association said that Christians in the country have been warned of the high risk of revenge attacks, however.
"Protests have already started as a result of Asia Bibi's not guilty verdict. Islamabad has been blocked off by protesters shouting slogans and the police are on standby. A perimeter has been formed by law enforcement around sensitive targets and important government buildings," the BPCA reported.
Wilson Chowdhry, Chairman of the BPCA, pointed out that the Christian mother has spent nearly 10 years in isolation.
"The world has watched her suffer but today, thanks to the grace of God, today the world rejoices. Her freedom can hardly be called justice and nothing will ever compensate her for her lost years," he said.
"For now we can only pray that she is given the counselling and support she needs to recover and restore her place in society — this will of course be in a nation far away from Pakistan where it is untenable for her to remain."