Muslims Launch Nationwide Campaign to Get Asia Bibi Hanged, Threaten Supreme Court Judges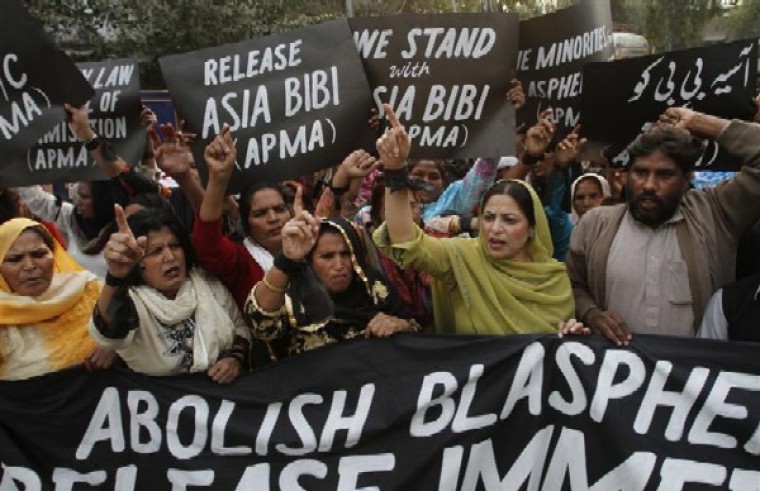 As the world awaits Pakistan Supreme Court's decision in the death sentence appeal of Christian mother Asia Bibi, radicals have threatened violence and promised nationwide protests if she is set free.
Human rights groups have voiced concern over reports that the country's Supreme Court justices are being threatened by hardline Muslim extremists affiliated with political parties like Tehreek-e-Labaik Pakistan (TLP).
According to AFP, extremists have threatened the justices with a "horrible" death if they give clemency to the Christian mother of five who was sentenced to death in 2010 after Muslim women accused her of blasphemy because of an argument over drinking water.
The threat came in the form of a statement released by the TLP last Wednesday, two days after Bibi's appeal was heard by a three-judge panel of the Pakistan Supreme Court after years of delay. The panel's ruling on her appeal has not yet been announced.
The Pakistani newspaper Dawn reports that supporters of the TLP have converged last week in cities like Lahore, Karachi, Multan and Gujranwala to "pre-empt the acquittal" of Bibi, who is also known by the name Aasiya Noreen.
The group is reportedly threatening to paralyze the country if Bibi is set free.
The TLP is said to have directed its local leaders to stage sit-in protests nationwide if Bibi is released.
"Judges' remarks have sown doubt among the party leaders and fears that she would be released soon," TLP Patron-in-Chief Pir Afzal Qadri was quoted as saying while speaking at an anti-Bibi rally in Lahore.
The patron-in-chief then read out a four-point resolution backed by party leaders that argued that allowing Bibi to go free would be an assault on not only the nation's blasphemy laws but also an attack on Islam and the national Constitution as well.
"The [TLP] central leadership has already decided about a countrywide protest and local leaders should not wait for any message from the central leadership and start their sit-ins immediately," Qadri was quoted as telling the crowd.
Should Bibi be released, Qadri called for the protests to continue until the justices who ensured her release face punishment "even if the central leadership is incarcerated or killed."
Dawn.com reports that TLP Chief Khadim Hussain Rizvi went as far as challenging the judges to a debate on the country's blasphemy law and urged the party's supporters to "stay ready and wait for Tuesday when another important announcement would be made."
Additionally, TLP leaders have urged Prime Minister Imran Khan to develop a clear policy on blasphemy that will appease his nationalist base.
Pakistan ranks as the fifth worst country in the world when it comes to Christian persecution, according to Open Doors USA's 2018 World Watch List. Additionally, Pakistan has been placed on the U.S. State Department's "Special Watch List" for religious freedom violators.
Advocates have long called for a repeal of the nation's blasphemy laws, which has in many cases been abused by Muslims to persecute religious minorities. Some Pakistani politicians have even been killed for voicing their beliefs that the blasphemy laws should be reformed.
Hardliners participating in a rally in Karachi not only called for Bibi to be executed but also for there to be consequences for those who are speaking out in support of her.
As the British Pakistani Christian Association notes, Christians across the country are praying and fasting for her freedom. Some Christian leaders have also called for their communities to receive protection in light of multiple threats against their congregations should Bibi set free.
"The ongoing protest in Pakistan by extremist groups with regards to Asia's possible release is a great concern for the whole Christian community in Pakistan. We all want Asia to be released and at the same time being a minority we want assurance of peace and security," BPCA officer Mehwish Bhatti said in a statement. "I implore the government of Pakistan to induce special measures to protect Christians in Pakistan. The past attacks on Christians have not been forgotten many from the communities of Rimsha Masih's village, and Gojra are still homeless."
Advocates are calling for Bibi and her family to be granted asylum in a foreign country should she be released due to the threat on their lives. However, AFP reports that leaders with Pakistan's Red Mosque movement filed a petition with the court to put Bibi on a no-fly list.