Asia Bibi's Daughters Tortured for Trying to Save Mother From Muslim Attackers, Father Says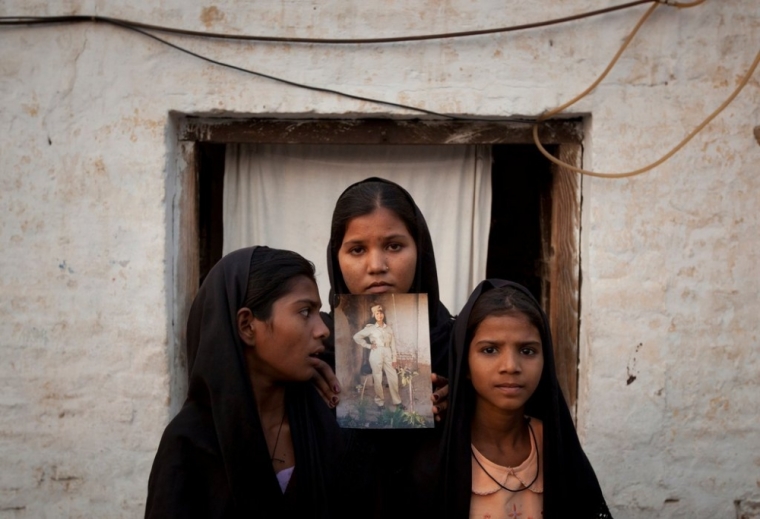 Two daughters of Asia Bibi, a Christian mother of five who was sentenced to death in 2010 on accusations of blasphemy, say a mob of Islamist fanatics tortured them because of the allegation against their mother.
"My friends told me that people were torturing my mother at the fields where she used to work," Esham Masih, Asia Bibi's oldest daughter, told the U.K.'s Daily Mail, recalling how one day while coming back from school she found her mother being abused by a group of men. Esham was just 9 at the time.
"I rushed to the spot and found that she was being abused and tortured by men. They had even torn her clothes," she said, adding that she ran back home to get new clothes for her mother. When she brought the clothes, the men came back. "The angry men came back and started torturing us both and tore down her clothes again," Esham explained.
"I still dream of the day she was tortured and arrested. I could not sleep properly," she continued. The men also abused her mother verbally, calling her "mother f-----'" and "sister f-----," she recalled.
"They dragged her to the center of the village. We both were crying but there was nobody to listen to us. After half an hour or so, the police came and my mother asked me to go and find my father, who was hiding at my uncle's house. But he was too terrified to leave. I ran back and by that time police had taken my mother away."
Asia Bibi's husband, Ashiq Masih, was quoted as saying that he was sure he, too, would have been accused of blasphemy had he gone to save his wife, and then there wouldn't have been anyone to fight her case.
"They didn't even spare my daughters and tortured them," he said.
Asia Bibi was sentenced to death in 2010 on allegations of blasphemy after two co-workers accused her of insulting the Muslim prophet Muhammad.
Earlier this month, the Supreme Court set a date in October for 51-year-old Asia Bibi's final appeal hearing to determine whether she will be executed or not.
One day in June 2009, she was picking berries with a group of Muslim women in the town of Sheikhupura in the Punjab province. The women got upset that she drank from the same water bowl as them. An argument ensued, and the women went to police and accused her of saying something along the lines of "My Christ died for me, what did Muhammad do for you?" She was promptly arrested.
The American Center for Law and Justice and other groups are calling on Christians to raise up their voices to support her by signing to a petition that will be delivered to the Pakistani Supreme Court.
The European Centre for Law and Justice's affiliate in Pakistan, the Organization for Legal Aid, spoke with the Christian mother's attorney, who confirmed the October date for the hearing, the ACLJ said.
"Normally, it takes about three to five years for a case to come up for a hearing before the Supreme Court. But since the petition for early hearing was granted, the case will be forwarded to the court's registrar to set the date," it added.
Asia Bibi's case also reached Pope Francis at the Vatican, who in April met with and prayed for her family in Rome.
"We are here in Italy to make sure we can be the voice of an innocent woman who has been suffering in jail for six years," Catholic News Agency quoted Masih, as saying. "Since the day Asia Bibi was arrested, our family is totally destroyed. The children cannot survive without their mother. Asia Bibi misses her children, the children miss her."