At 74, Shirley Caesar to Release New Album, 'Good God'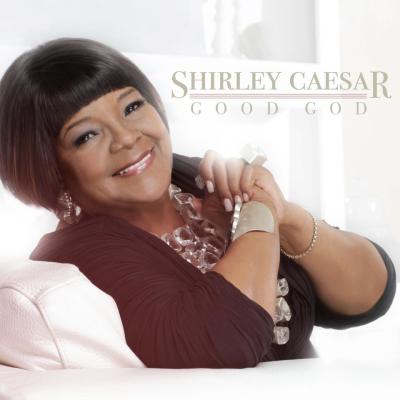 When legendary gospel singer Pastor Shirley Caesar sang "I'll Never Stop Praising the Lord," she clearly meant every word of it. At 74 years old and more than 40 gospel albums into a 60-year career, the multi-Dove and Grammy award winning minister is set to release a brand new album on March 26 simply titled, Good God.
"It's going to bless you," says Mrs. Caesar who talked briefly about the album in a recent Fox 11 interview. And she should know.
The Gospel Guru, describes the album, which can be pre-ordered on Amazon.com, as "all bouncy gospel" that "this new generation wouldn't mind having on their playlist."
Caesar's new album boasts a dozen songs starting off with the title track "Good God" and courses through others with names like, "You Stayed," "When You Pray God Answers," "Holy Boldness" and "Fighting The Good Fight."
"You're going to hear a lot of ministry on there. One song I stopped writing in the middle of it and just began to pray for people," said Caesar in another interview. "Then I recorded another song on there that I wrote that says, 'It's Nice to Be Nice,' because what you send out will come back to you. So that song is in there, I also recut 'Holy Boldness.' I think you're going to enjoy it," she added.
"Holy Boldness," she explains is simply about God's call for Christians to pursue a holy life. "…It talks about adding love, joy, peace, longsuffering, gentleness, goodness and all of these things. You put all of that together then you should come up with a holy life," she told Fox 11.
Caesar, who pastors the 1,500-member Mount Calvary Word of Faith Church in Raleigh, N.C., with her husband, Bishop Harold Williams, explained that she will be touring across America in the coming months "as long as I'm back by Sunday morning to be at my church."
The album was produced by Gospel artists Kurt Carr and James Fortune, who also joined Caesar on a couple of the tracks on the album.
When asked how she was able to deal with change in the music industry over her career, she explained that she simply embraced it while remaining true to her calling.
"Of course it is a different game. …Years ago when, for example, Kirk Franklin came out with his new style of gospel, a lot of the churches did not understand it. I didn't, because I'm a traditional gospel singer. But let me tell you something, anything that does not change, becomes stagnant...and so if you can't beat them join them. I thoroughly enjoy Kirk Franklin, the boy is a genius," said Caesar.
And her advice for aspiring Christian musicians? "Well, the main thing I think, is that somewhere in your heart you'll want to live the life that you're singing about," she said.
She also warns young aspiring singers in school not give up on their formal education to pursue a career in the music industry because it is very unpredictable.