At Least 70 ISIS Fighters Killed in Syria; US Drops Arms to Kurds to Defend Kobani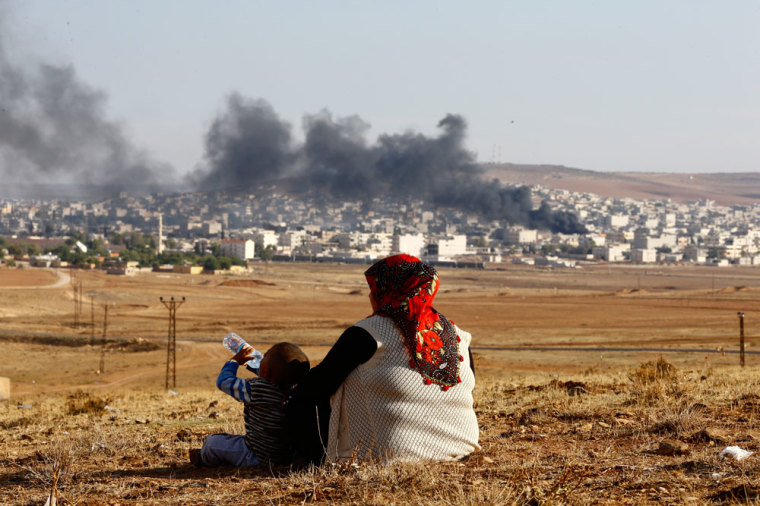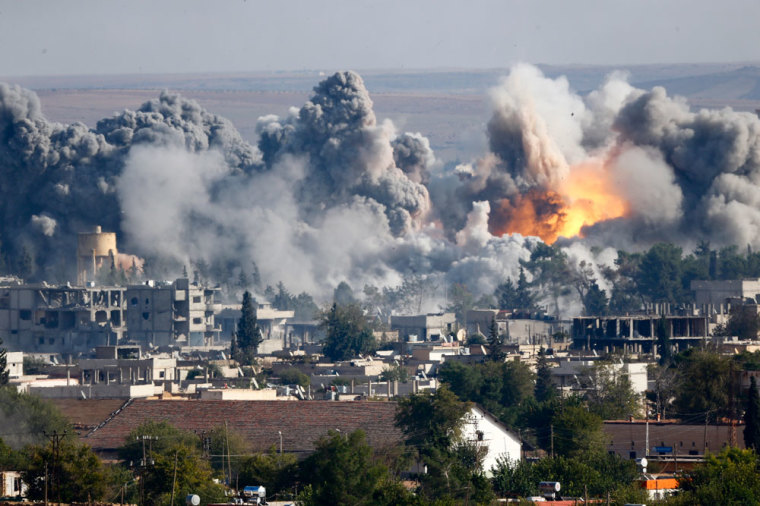 View Photos
A Syrian opposition group said the bodies of at least 70 fighters from Islamic State have been dumped at a hospital in a northern Syrian town, not too far from the border town of Kobani, where the U.S. military Sunday dropped arms and supplies to Kurdish forces fighting ISIS to prevent its capture.
The bodies were dropped off over the last four days possibly by other fighters at a hospital in the town of Tal Abyad, about 50 miles from Raqqa, which was taken by ISIS last year, a Syrian opposition group told CNN.
The London-based Syrian Observatory for Human Rights also said sources confirmed that bodies of ISIS militants arrived at the hospital.
In Syria's Kobani area on the Turkish border, U.S. Central Command launched 11 airstrikes overnight.
CentCom was quoted as saying that three U.S. C-130 cargo planes dropped 27 bundles of small arms, ammunition and medical supplies provided by Kurdish authorities in Iraq, clarifying that the exercise was only aimed at helping Kurdish fighters help resist ISIS efforts to capture Kobani.
However, Turkey is against the supply of arms to Kurdish fighters, as the main Syrian Kurdish group, locally known as the PYD, is seen as linked to the PKK insurgent group in Turkey.
"The PYD is for us, equal to the PKK. It is a terror organization," The Associated Press quoted Turkish President Recep Tayyip Erdogan as saying. "It would be wrong for the United States — with whom we are friends and allies in NATO — to talk openly and to expect us to say 'yes' to such a support to a terrorist organization," Erdogan said.
A U.S.-led coalition has been carrying out airstrikes on ISIS positions in the Kobani area and elsewhere in Syria as well as in Iraq. The number of airstrikes increased last week.
Meanwhile, an ISIS fighter released a video Saturday claiming their attempt to take Kobani wasn't a fight against the Kurds.
"We came to establish the laws of God — not to fight the Kurds," the fighter said on the video uploaded to YouTube.
ISIS, an al-Qaeda offshoot and also known as ISIL, has taken over hundreds of villages around Kobani, and over 150,000 people from the region have fled to Turkey.
The Sunni terror group has gained control of large swathes of territories in Iraq and Syria. It wants to form an Islamic emirate in the Levant region through "jihad."
In Iraq, hundreds of members of the Christian and Yazidi minorities have also been killed, and tens of thousands of them have fled their homes.
ISIS has released videos showing the beheading of U.S. journalists James Foley and Steven Sotloff and British aid workers David Haines and Alan Henning.
According to the CIA, ISIS has about 31,500 fighters across Iraq and Syria. It is believed to have hundreds of foreign fighters, including those from the United States and Europe.