Atheist Group Celebrates America's 'Godless' Constitution in NYT Ad for Christmas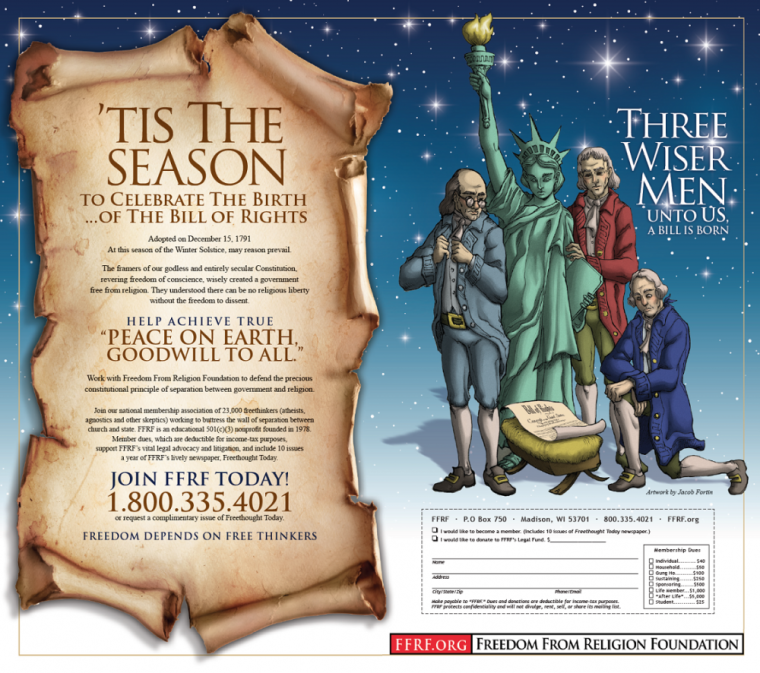 A major atheist group is marking Bill of Rights Day on Tuesday with a two-page ad in The New York Times celebrating America's "godless and entirely secular Constitution."
The Freedom From Religion Foundation shared an image of the ad in a press release, which depicts a "nativity scene" of some of the founding fathers and the Statue of Liberty, who replace biblical figures, in a manger.
"The framers of our godless and entirely secular Constitution, revering freedom of conscience, wisely created a government free from religion. They understood there can be no religious liberty without the freedom to dissent," the ad reads.
FFRF Co-President Annie Laurie Gaylor claims in a statement: "One of the biggest myths we have to surmount in the United States is this misconception that majority rules over matters of faith. The Bill of Rights places individual liberties and freedom of conscience above the fray of tyranny of the majority. And that is something to truly revere — and celebrate!"
The Bill of Rights, which includes the first ten amendments of the U.S. Constitution, was ratified on December 15, 1791, and has been marked by some groups as a secular occasion.
FFRF has used Bill of Rights nativity scenes to counter Christian-focused ones at state Courthouses, arguing for the separation between church and state. Earlier this year it announced it was going to display a Bill of Rights and a winter solstice banner at an Indiana Courthouse.
"During the course of litigation, the [Franklin] county decided that rather than stay neutral on religion, it would open a public forum for displays, and passed an ordinance regulating the use of its lawn by community residents and organizations," FFRF explained of its effort in Indiana back in September.
Such initiatives have in turn been countered by Christian law groups, such as the Thomas More Society, which last week said it will be fighting "anti-Christian" and "Satanic expositions" over Christmas.
"That message of the essential equality and dignity of all human beings, no matter how rich or poor, humble or high-stationed, resonates deeply with the values that Americans cherish," Tom Brejcha, Thomas More Society President and Chief Counsel said about the true meaning of Christmas.
In the past year FFRF has also been active in efforts seeking to remove Bibles from public places, especially hotels. The atheist group revealed back in October that Northern Illinois University agreed to remove its Bibles from the Holmes Student Center Hotel in DeKalb following a complaint that it sent.