Atheist Invocation in Greece, NY Focuses on Founding Fathers, Declaration of Independence
Atheist Invocation in Greece, NY Focuses on Founding Fathers, Declaration of Independence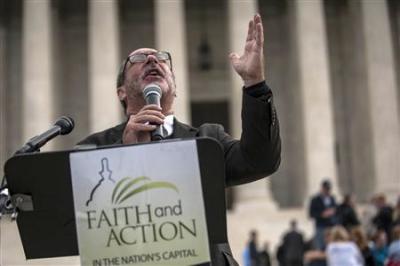 Dan Courtney, the atheist selected to deliver the invocation at Tuesday's town board meeting in Greece, New York, focused his brief speech on the Founding Fathers and the Declaration of Independence.
Courtney, a mechanical engineer from Hamlin, requested to deliver the convocation in Greece shortly after the U.S. Supreme Court sided with the city in May, saying that sectarian prayers at town board meetings were constitutionally permissible, as long as board members didn't discriminate against other faiths.
While delivering his invocation, Courtney, a former president of the Free Thinkers of Upstate New York, focused his brief speech on the Founding Fathers and the Declaration of Independence.
"On July 4, 1776, the 56 men, who pledged their lives to the document that changed the course of history, agreed to the central tenet that, 'Governments are instituted among Men, deriving their just powers from the consent of the governed,'" Courtney said, referencing the Founding Fathers' signing of the Declaration of Independence.
The atheist speaker went on to say that the central tenants of the Declaration of Independence as outlined by the Founding Fathers are "[…] today, more than ever, under assault. This central pillar of free society; this notion that is deeply heretical to authoritarian culture, proclaims that it is from the people that moral authority is derived."
Courtney chose to deliver the invocation in Greece, New York after the Supreme Court ruled 5 to 4 in favor of the New York town. Greece had been sued by two of its local residents, who argued the town violated the Establishment Clause of the U.S. Constitution by allowing predominately Christian volunteers to deliver the invocations at monthly town board meetings.
The Supreme Court ultimately ruled that the town was not violating the constitution by allowing Christian prayers to take place, as long as it did not discriminate against other religions also seeking to deliver an invocation.
Courtney previously told the Democrat and Chronicle that he chose to deliver the first invocation in Greece since the May court ruling after hearing a comment made by Justice Antonin Scalia during the court case.
"[Scalia] asked 'What is the equivalent of prayer for someone who is not religious?' and there was this laughter in the courtroom," Courtney recalled to the local media outlet. "That revealed this huge blind spot, not just of Justice Scalia, but of many theists who don't understand how a nonbeliever can participate. I felt I needed to step forward and show that nonbelievers can participate and can provide invocations."