Atheist TV Officially Launches; David Silverman Criticizes History Channel for Presenting Bible as History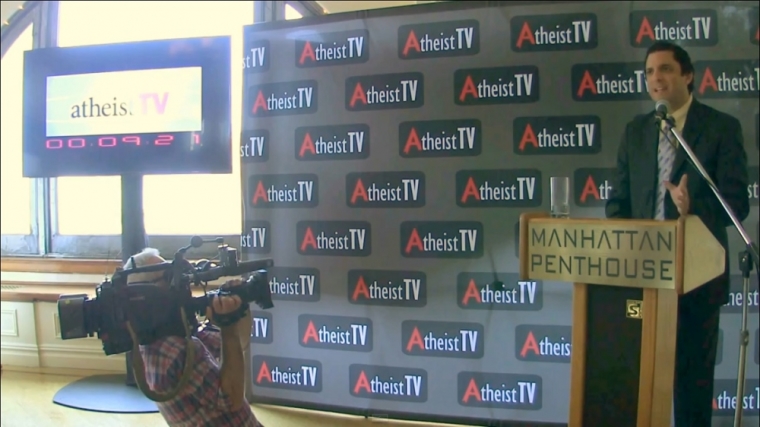 The world's first ever all-atheist TV channel officially launched Tuesday, with American Atheist president David Silverman declaring it is geared toward all atheists, everywhere. Silverman also criticized TV channels that present religion as truthful, using as an example the History Channel's "The Bible" miniseries in 2013.
"Atheist TV is geared toward every atheist in the broadest possible sense. Whether they call themselves atheists or skeptics or humanists or any of the other labels that people use to identify themselves, Atheist TV is for them," Silverman announced in a speech at the launch party.
He noted that the number of non-believers in the United States is on the rise, making up as much as one-fifth of the population. Silverman then criticized TV channels that, despite those statistics, continue "kowtowing" to religious preferences.
"The TV Networks kowtow to the liars who make money off misinformation. The History Channel treats the Bible like history," Silverman said.
"How can we trust what the History Channel says if it tells us that Jesus walked on water? The Discovery Channel treats ghosts like they are real. How can we believe that 'Mythbusters' is telling the truth?" he continued.
"Bigfoot, psychics, aliens, spooks, spirits, gods, devils — all bunk, all pushed by the so-called 'truthful and scientific stations.'"
"The Bible" miniseries on the History Channel, which was a 10-part show co-produced by husband and wife team Mark Burnett and Roma Downey, scored highly impressive ratings for the network and broke DVD records upon release.
It was later shortened into a movie titled "Son of God," released in February.
Atheist TV was launched through streaming service Roku, and partners with other atheist groups, such as the Richard Dawkins Foundation.
A Facebook message from the Atheist TV's page on Wednesday said that "the launch party last night was a blast — truly history in the making."
In an earlier press release, Silverman promised that the channel will offer "superstition-free programming" for adults and children.
"There are hundreds of TV channels dedicated to religious programming, but nothing like this has ever existed before for atheists, and yet the demand is overwhelming. For the first time, atheist video content — from firebrand speeches, to stand-up comedy, to documentaries, to real science-based educational programming, and more — is now available to atheists worldwide, on the air and all in one place," the American Atheist president explained.
"Atheist TV brings consistent, quality, superstition-free programming for children and adults, on the air and on-demand, right from your regular television. This is an idea whose time has come and we're celebrating."