Focus on the Family Speaks Out Against 'God's Not Dead' Vandalism of Atheist Billboard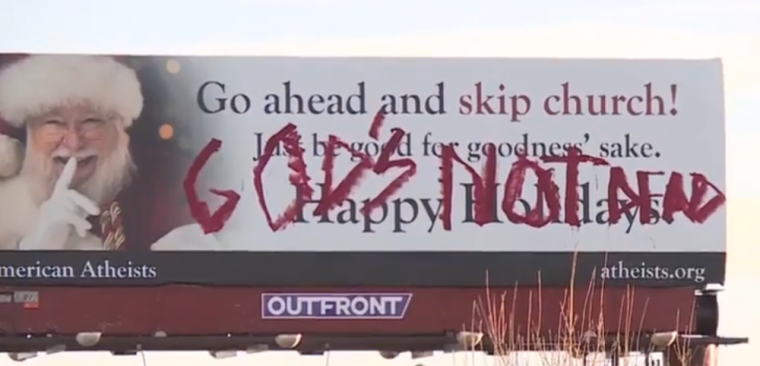 A conservative Christian organization based in Colorado has denounced the vandalism of an atheist billboard that advises people to "skip church."
Focus on the Family, which is based in Colorado Springs, decried the recent vandalism of an American Atheists billboard ad.
Paul Batura, spokesman for Focus on the Family, told The Christian Post on Tuesday that despite disagreeing with the billboard's message it shouldn't have been defaced.

"Vandalism has no place in a civilized society," said Batura. "We disagree with their message but we certainly respect their right to say it."
"We don't know who is responsible for the damage, but to deliberately deface private property is a foolish and immature response to any objections one might have regarding the message of the billboard."
Last month during the Christmas season, American Atheists posted two billboards in Colorado Springs and Winston-Salem, North Carolina.
The billboards depicted a smiling Santa Claus shushing with the caption: "Go ahead and skip church. Just be good for goodness sake. Happy Holidays!"
In a statement released in December, American Atheists President David Silverman said the goal of the billboards was to argue that "going to church has absolutely nothing to do with being a good person."
"The things that are most important during the holiday season — spending time with loved ones, charity, and being merry — have nothing to do with religion," argued Silverman.
At some point during the first weekend of the year an unknown party vandalized the Colorado Springs billboard, spray painting the phrase "God's Not Dead" across the written message.
The statement was a likely reference to the hit contemporary Christian band Newsboys song and the surprise blockbuster film from 2014, both of the same name.
Regarding the content of the billboard, Batura of Focus on the Family told CP that he found it ironic that American Atheists chose Santa Claus as part of the message.
"Saint Nicholas dedicated his life to serving God. He took his inheritance, sold everything he owned and gave the money to the poor," said Batura.
"He was known for his generosity to those in need, his love for children. He was actually exiled and imprisoned for his faith."
In an interview with local station KRDO News Channel 13, American Atheists Colorado Regional Director Randy Gotovich called the incident "sad."
"I would have hoped that we would have been able to come together as friends, neighbors, brothers and sisters but some people still want to just spread intolerance," stated Gotovich.