Atlanta Mayor Branded 'Antichrist,' 'Muslim' for Firing Christian Fire Chief; 'I Have Crazy People Calling My House,' Says Mayor Reed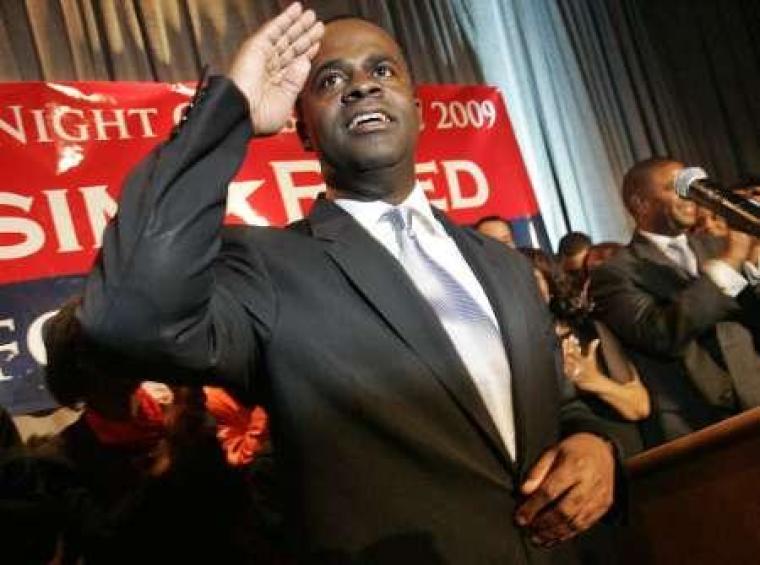 Atlanta's Mayor Muhammad Kasim Reed says that he has been called the "Antichrist" and "a Muslim" since terminating Fire Chief Kelvin Cochran and despite being subject to harassment and alarming threats, he stands by his controversial decision.
On Jan. 6 Cochran, a devout Christian, was fired by Reed for espousing his religious beliefs in a self-published book and distributing copies to fellow employees. The termination sparked widespread outrage and protests and also drew a firestorm of criticism from prominent Christian leaders including evangelist Franklin Graham and Family Research Council President Tony Perkins, who say Cochran's First Amendment rights have been violated.
"The only part that I really don't like is just the tone and tenor of the comments that have been directed to me and the threat that this has caused to the safety of my family," Reed said in his first sit down with Atlanta's WXIA.
He has been bombarded with complaints from Cochran supporters, who demand that he apologize and reinstate the married father of three as fire chief.
"If you read the emails, the comments are way out of bounds. They've gone way beyond a normal conversation," he explained. "Now I ran for office and I got elected to this job. I certainly take my share of criticism and heat, but I've got a wife and daughter at home. I have crazy people calling my house, hanging up the phone, calling me the Antichrist, saying I'm some form of Muslim. And while I respect Muslims and other faiths, I'm not [a Muslim] and these people are just taking it a bit too far."
Cochran, who will likely sue the city over his dismissal, has been overwhelmed by an outpouring of public support in recent months. On Tuesday, hundreds of religious freedom advocates gathered for the "Standing for our Faith Rally" in the Georgia State Capitol rotunda in a show of support for the former fire chief but Reed is not buying the show of solidarity.
"I'm really disappointed that the chief is allowing folks to use him the way that he is being used," Reed said. "If you look at the emails, the tweets, the phone calls we've been receiving, 95 percent of them are from people that don't even live in Georgia and certainly don't live in the city of Atlanta."
TO READ MORE ABOUT TUESDAY'S RELIGIOUS FREEDOM RALLY CLICK HERE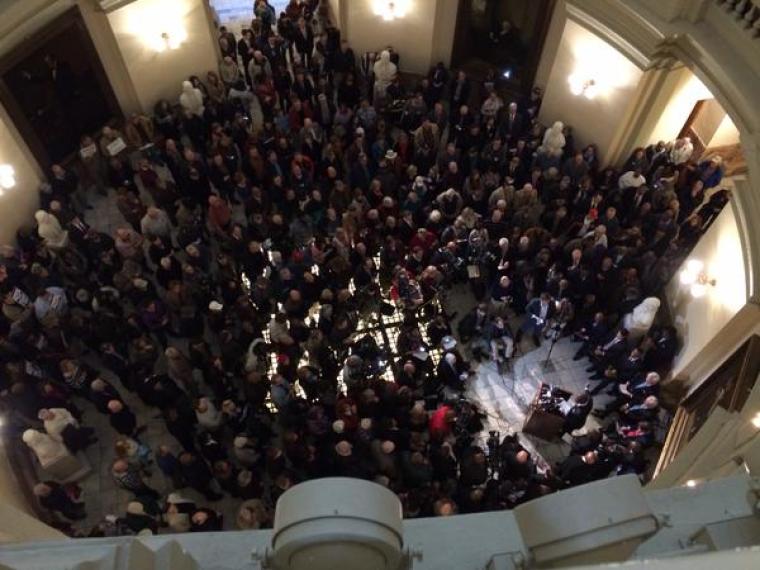 In his 2013 book, Who Told You That You Are Naked?, Cochran calls homosexuality "sexual perversion" and "vulgar" and also likens it to "bestiality" among other things. He was suspended without pay late last year and forced to undergo sensitivity training after an AFRD member complained that he had shared the book with employees.
The City's ethics code requires that a Commissioner get approval from the ethics office prior to engaging in private activity for pay.
In an exclusive interview with The Christian Post last week, Cochran said that he did in fact get verbal permission to write the book from the city's ethics officer, Nina R. Hickson, during a five-minute conversation. She allegedly cannot recall the conversation.
TO READ AN EXCLUSIVE INTERVIEW WITH KELVIN COCHRAN CLICK HERE
"The bottom line is he was fired because he displayed bad judgment. He never got permission from me," said Reed.
A city investigation determined Cochran had not discriminated against LGBT employees but he was fired anyway.
Cochran, who first served as fire chief in 2008, believes that his dismissal is symbolic of a growing threat on religious freedoms facing Christians and other people of faith, which is why he is currently exploring his legal options.
"Well, I'm in discussions right now, but I'm pretty certain that I'll take legal action," Cochran told CP exclusively. "There are others (fire chiefs, police chiefs, and military folks, etc.) out there who, once they see this can happen to Fire Chief Kelvin Cochran in a large city like Atlanta, [will say] 'I've certainly got to put my Bible under my desk and keep my mouth shut about what I believe.'"
Reed, whose grandfather was a United Methodist minister, said recently that he too is a man of "deep faith" and that Cochran's firing had nothing to do with his religious beliefs but rather his behavior in the workplace.
"... I'm confident of my relationship with Jesus Christ and my faith in God," he said. He also wrote via Facebook: "The truth is that I am a man of deep faith myself, and we are a city of laws. Chief Cochran's book, "Who Told You You Were Naked," was published in violation of the city's Standards of Conduct, which required prior approval from the Board of Ethics."
Cochran, who regularly attends Elizabeth Baptist Church in Atlanta, recently called on all Christians to unite to protect their religious freedoms.
"I would like to see a unified effort in the body of Christ. I think that our denominational boundaries, our racial boundaries, even our boundaires along political lines, democrats, republicans and independants has all weakened our voice on religious freedom," he previously told the Christian Post regarding the Christian community. "Unless we come together and put all those boundaries and barriers aside for a unifed voice ... we're not going to actually have the strength politically like members of the LGBT community do."
In 2009 Obama appointed Cochran as the fire administrator for the U.S. Fire Administration. He returned to his job as Atlanta's fire chief the following year.
The Christian Post reached out to both Mayor Reed and Ethics Officer, Nina R. Hickson for comment but they did not respond by press time.