Australian Megachurch Band Hillsong United Wins Billboard Music Award Ahead of 'Empires' Release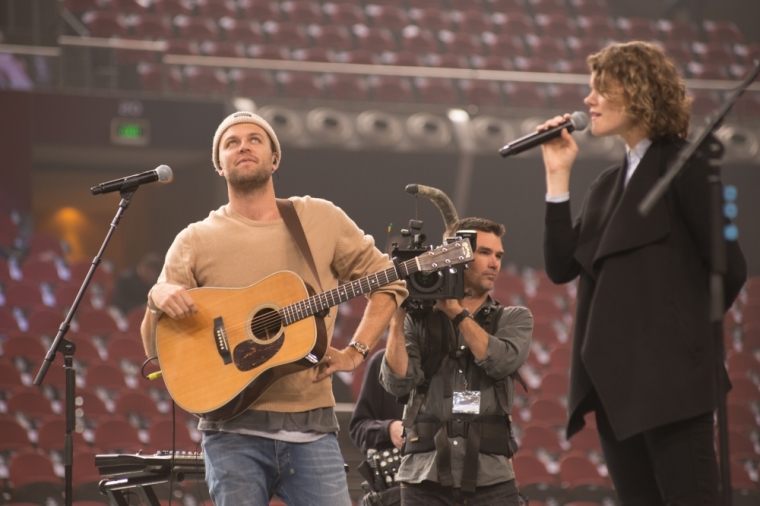 Acclaimed worship band Hillsong United took home the award for Top Christian Artist at the Billboard Music Awards on Sunday night. Next week the band is set to debut its fourth studio album Empires.
The Australian megachurch band was also nominated for a Billboard award in the "Top Christian Song" category for their chart-topping hit "Oceans (Where Feet May Fail)" although Country music star Carrie Underwood won for her platinum hit "Something In The Water." Rapper Lecrae took home the Top Christian Album award for Anomaly.
"At this point it's all so far beyond us that everything and nothing is a surprise," Hillsong pastor Joel Houston told The Christian Post on Monday. "We've been riding on this scandalous grace for so long and throwing everything we have into not taking a moment of it for granted. It means a lot to be recognized on this kind of platform, and with so many incredible artists we love and admire.
He continued: "I feel like this award belongs to the many in our church and others around the world who faithfully give their time and energy week in week out, often behind the scenes and with no desire for accolade or applause. If anything these songs and whatever they achieve are the overflow of that spirit to simply serve God and serve others."
Top Christian Artist
Casting Crowns
Hillsong United
Lecrae
MercyMe
Newsboys
Top Christian Album
Lecrae, Anomaly
Casting Crowns, Thrive
MercyMe, Welcome to the New
NEEDTOBREATHE, Rivers in the Wasteland
Chris Tomlin, Love Ran Red
Top Christian Song
Francesca Battistelli, "He Knows My Name"
Hillsong United, "Oceans (Where Feet May Fail)"
MercyMe, "Greater"
Newsboys, "We Believe"
Carrie Underwood, "Something In The Water"
Their Empires album is slated for release on May 26 and in addition, the band is also gearing up for the release of Hillsong's first ever film "Hillsong — Let Hope Rise."
"We wanted to create songs that first seek to listen, then speak the good news of Jesus and His Grace into the dichotomy, tension and hopeful-collision of this broken and fragile world we see here and now, and the unshakeable and mysterious reality of the Kingdom we can't see," said Joel Houston, who leads the 11-member band. "Our desire has been to simply create the most honest project we could."
Last year, the band, which began in 1998 as a pastime for youth at church and has since grown into a global sensation, won its first ever American Music Award and Houston said that while they are delighted by the recognition they have a much greater purpose.
"It's nice at the end of the day. Our heart has always been to build the church, it really has been and when we started out writing music we never could've imagined that we'd travel, let alone experience some of the things we've seen," Houston, who is co-pastor of Hillsong NYC, previously told The Christian Post exclusively.
Last year the band's third studio album Zion peaked at number 1 on Christian album charts in Australia, the U.S. and the United Kingdom.
"... It continues to blow our minds, but what I love about our guys is there's this super unassuming quality to our team when it comes to that stuff," Houston explained. "It's like hey we won five Dove awards and that's fine but there was no fanfare, no party. It wasn't like we were high-fiving or jumping around excited about it. I think for us it just continues to add to this story of God's grace and that He'd choose to use people like us. It applies to everything that we do as a church."
He previously told CP that the band's goal is never to write "cool" music, but rather to share the incredible story of Jesus.
"I'm not trying to write songs that are cool or hip or that keep up to date with whatever is out there on the radio," he said. "We're genuinely just trying to write songs that are honest reflections of a creative God and music that helps people connect with God."
Hillsong, which is headquartered in Sydney, has churches around the world with more than 100,000 weekly attendees, including thriving congregations in New York and Los Angeles. An estimated 50 million people sing their songs every Sunday.