Austrian Horror Discovery: 71 Migrants, Including Four Children, Found Dead in Abandoned Truck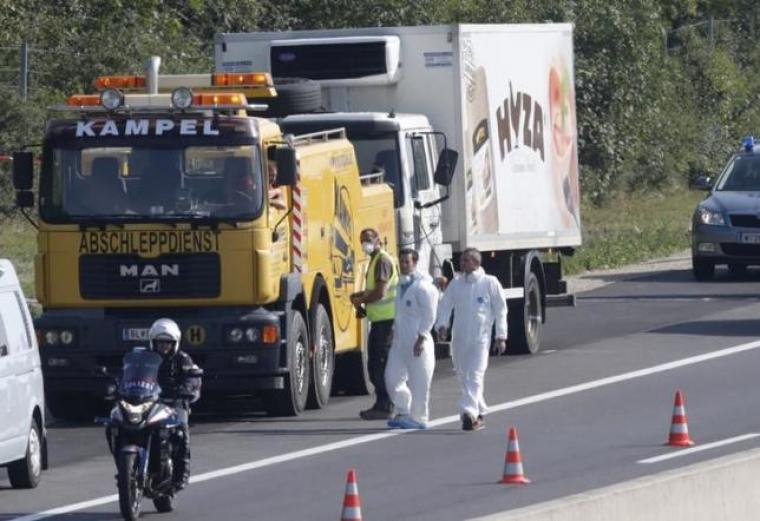 Austrian police have said that 71 people, including four children, have been discovered dead in an abandoned truck near the Hungarian border. Police suspect that the victims were Syrian migrants and victims of human trafficking.
BBC News reported that among the victims were 59 men and eight women, believed to have suffocated inside the truck two days ago.
The grizzly discovery was apparently made Thursday morning when police were sent to investigate the abandoned truck on the A4 motorway toward Vienna.
"Our preliminary assumption is of course that they were refugees, possibly a group of Syrian refugees," said Hans Peter Doskozil, Burgenland province police chief, revealing that travel documents were found in the vehicle.
"One Syrian travel document was found inside the lorry. As to whether they were all Syrians, it's too early to say," he added.
"It's an important part of our investigation that we can eventually say who these people were, who met a tragic death here."
The Telegraph reported that three people have been arrested in Hungary in connection to the deaths. Doskozil said that two of the arrested are Bulgarian citizens, who are believed to have been drivers of the truck.
The nationality of the truck's owner is still unclear, though police believe the human trafficking was being carried out by a "Bulgarian-Romanian trafficking organisation."
Johann Fuchs, state prosecutor of Eisenstadt, agreed that the case looks likely to be connected to human trafficking.
"They probably suffocated inside the truck. We are talking about human trafficking, homicide, even murder," Fuchs said, according to CNN.
The truck was designed to transport frozen foods, police said, noting that the bodies were decomposing in the heat when they were discovered.
Human trafficking has been recognized by the U.N. and other human rights organizations as a serious and growing problem across Europe. Austrian authorities noted that close to 3,000 trucks pass through that area on the highway every day, and checking each one of them is impossible.
"This horrible crime shows that we must get even tougher in the battle against people smuggling," said Austrian Interior Minister Johanna Mikl-Leitner.
"People smugglers are criminals and not well-minded helpers. They do not care about the well-being of the refugees, they care about profit."
The European Commission says on its website that several hundred thousands of people are believed to be trafficked within the European Union every year.
"Trafficking in human beings is a serious crime and a gross violation of human rights. It is very often linked with organized crime and is considered as one of the most profitable criminal activities worldwide," the EC states.
It adds that women and children are particularly affected, and represent up to 98 percent of victims in forced commercial sexual exploitation.