Author of 'Mormon Christianity' Claims Christians Can Learn From the Church of Jesus Christ of Latter-day Saints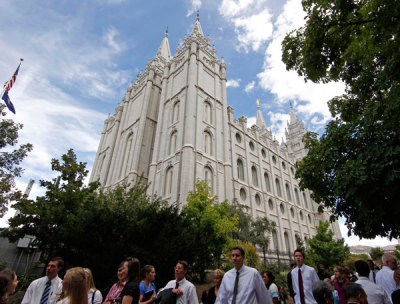 A Roman Catholic scholar and former philosophy and religion professor has released a new book that defends Mormonism as "one of the youngest branches on the Christian tree," and claims that Christians can learn from the Mormon religion.
Stephen H. Webb, former 25 year professor of religion and philosophy at Wabash College and author of the book, Mormon Christianity: What Other Christians Can Learn From the Latter-day Saints, told The Christian Post that, among other things, "Mormon theology teaches us to think of matter in new and creative ways."
"Traditional theology teaches that matter is lifeless, without the soul it's just dead weight," Webb explained. But this view is not inherent in the Christian faith, he argued, "it took a long time until Christians started accepting this idea of matter."
Furthermore, with the discoveries of modern physics, Webb encourages Christians to accept a more lively, spiritual view of matter.
"Matter has something of the divine in it," he argued. "Matter can be elevated, it can transcend its own state."
Webb also claims that this concept is not pantheistic, but lies at the heart of Roman Catholicism, with the idea of transubstantiation, where the bread and wine become the body and blood of Jesus Christ.
Lynn Wilder, former Brigham Young University professor and author of Unveiling Grace: The Story of How We Found Our Way Out of the Mormon Church, told CP that "Webb's position on Mormon teachings is corroborated in Mormon scripture where God the Father has a body of flesh and bone (D&C 130:22) as does Jesus, and that all spirit -- even their Holy Ghost -- is matter (D&C 131:7-8)."
Wilder added, however, that this belief "is what makes Mormonism polytheistic instead of monotheistic."
"In Mormonism," Wilder explained, "each God consists of matter and is separate from the others," as opposed to united in the Christian Trinity of Father, Son and Holy Ghost.
"Since a worthy priesthood-holding, temple-attending Mormon male can eventually work his way to godhood like all three members of the Mormon godhood did, according to LDS teachings, there could be millions of gods with material bodies," she added.
Wilder also emphasized that Mormons do not believe God created the universe ex nihilo, or out of nothing, citing Psalms 32 as the basis for this doctrine.
The Church of Latter-day Saints, she explained, teaches that the gods "reorganized matter that already existed (Pearl of Great Price, Book of Abraham 4:1)."
Webb, however, defended the Church of Latter-day Saints as a branch of Christianity.
"To me, Mormons should be grouped with all the other Protestant denominations in terms of how the Catholic Church sees them," as 'separated brethren,' he explained.
Webb also lamented the Roman Catholic Church's decision -- which he called "recent" -- to not accept the baptism of Mormons. "I think that's a very unfortunate decision," he said.
"Mormons are closer to Catholics than most Protestants," Webb added, noting that they "love the ritual, love the history, family, traditional values."
He expressed annoyance at the common Evangelical dismissal of Roman Catholic and Mormon churches in that they "don't feel Jesus there." Mormons and Catholics "don't have a born again experience," but believe that faith involves "gradual, deeper immersion in scripture and tradition," he explained.
Providing an opposing view, Wilder dismissed these arguments, emphasizing the fact that Mormons do not follow the Bible alone.
"Mormons believe that Christ's church fell away after the original apostles died, so the Catholic Church is not true," she argued. "The true church was not restored until Joseph Smith, so although Webb would say they are brothers, Mormon doctrine teaches otherwise."
Wilder also acknowledged that Mormons have communion, but emphasized that they use "leavened bread and water, not fruit of the vine or unleavened bread." In short, "the Mormon Jesus teaches a different way to be saved so [He] is not the biblical Jesus."
She also claimed to know the Church of Latter-day Saints more intimately than Webb, noting her experience at Brigham Young University and her husband's experience in the temple.
The author of Mormon Christianity "would not know the deep doctrines of Mormonism that are taught in the temple or in the various priesthood classes for members," she alleged.