Autopsy Shows Michael Brown Was Shot 6 Times, Twice in the Head; Missouri Gov. Deploys National Guard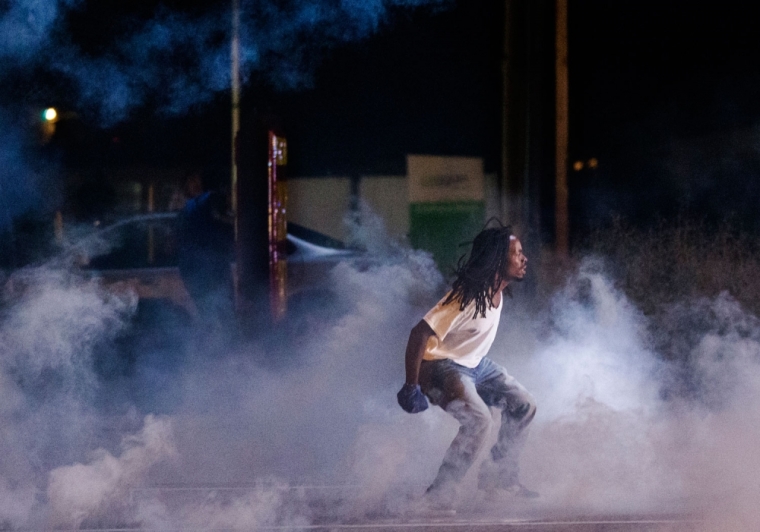 Clashes involving gunfire, Molotov cocktails and tear gas were reported once again from Ferguson late Sunday, compelling Missouri Gov. Jay Nixon to deploy the National Guard. A preliminary private autopsy report shows that black teen Michael Brown was shot at least six times, including twice in the head.
Nixon, who had declared a state of emergency and implemented a midnight to 5 a.m. curfew in Ferguson on Saturday, signed an executive order early Monday for the deployment of the National Guard into the town in the suburb of St. Louis.
While peaceful protests took place during the day on Sunday, protesters and police clashed in the night using gunfire, Molotov cocktails and tear gas, according to CNN.
Hundreds of protester, including children, marched toward a police command post despite the curfew late Sunday, and police fired tear gas into the crowd in response. At least one protester was hit with rubber bullets.
Protesters threw Molotov cocktails toward the officers, according to police.
"Tonight, a day of hope, prayers, and peaceful protests was marred by the violent criminal acts of an organized and growing number of individuals, many from outside the community and state, whose actions are putting the residents and businesses of Ferguson at risk," the governor said in a statement. "These violent acts are a disservice to the family of Michael Brown and his memory, and to the people of this community who yearn for justice to be served, and to feel safe in their own homes."
Ferguson has been tense since 18-year-old Brown, who had allegedly stolen cigars from a convenience store, was shot dead by an officer moments later on Aug. 9.
On Saturday, one person was shot and seven arrested as at least 200 protesters defied the curfew.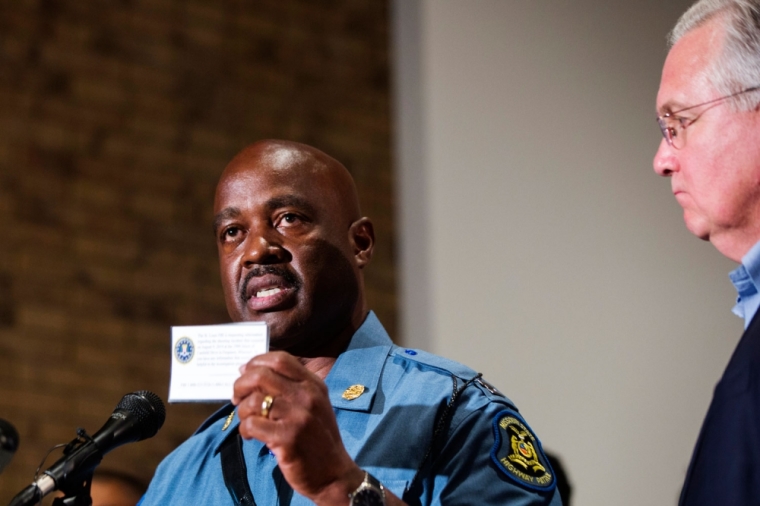 Now, the autopsy report is "bound to escalate tensions," the Rev. Jesse Jackson told CNN Sunday. "This is a very provocative report."
According to a diagram the Brown family received from the private autopsy performed by former New York City Medical Examiner Michael M. Baden, Brown had six entry wounds, including two in the head, Los Angeles Times quoted family attorney Anthony Gray as saying.
"It raises the same questions we had before," he said. "The bullet marks on the body are consistent with the witness statements … To have a shot that's at a 90-degree angle from the top of his skull to the bottom of his chin, almost vertical, that sounds like an officer standing over him."
Baden was quoted as saying that it seems that none of the six bullets was fired at point-blank range, but all were fired from at least one to two feet away. "There's no evidence of powder residue."
At least one of the wounds to Brown's arm "could have been defensive," Baden added.
On Friday, police identified the officer who shot Brown, as Darren Wilson. Police also released pictures showing the teen strong-arming a smaller man inside a convenience store.
Ferguson Police Chief Thomas Jackson said at a press conference Friday that the officer was responding to a 911 call about the robbery of a $48.99 box of cigars. Dorian Johnson, a friend of Brown, also admitted through his attorney that he and Brown had taken part in the theft of cigars, according to MSNBC.
However, Brown's family alleged that police were seeking to divert people's attention away from the shooting. Family attorney, Daryl Parks, said the man shown in the footage released by police "appears to be" Brown. But the family asked why he was shot even after he put up his hands in surrender to the officer.
"There is nothing based on the facts that have been placed before us that can justify the execution style murder of their child by this police officer as he held his hands up, which is the universal sign of surrender," the family said in a statement.
The officer has had no complaints lodged against him.
Ferguson police chief said the officer did not know Brown was a suspect when he stopped him and his friend last weekend. They were stopped "because they were walking down the middle of the street blocking traffic," he said, adding that it was during the encounter that the officer saw the cigars in Brown's hands.
The officer, who has been on administrative leave since the shooting, allegedly received injuries to his face during the encounter with Brown.
Brown's friend, Johnson, earlier said that the officer pointed a gun at Brown and said, "I'll shoot." The officer fired shots after Brown held his hands up.