Ayesha Curry Blasts Fans for Posting Photos of Her and LeBron James After Warriors Championship Loss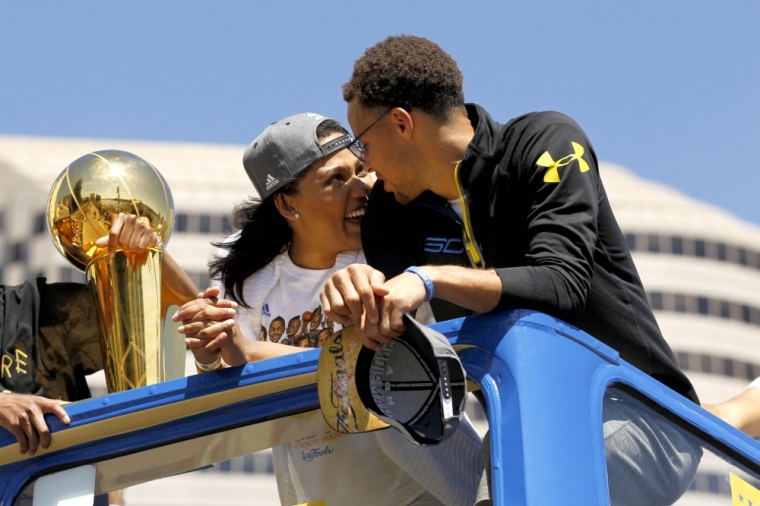 After Stephen Curry's Golden State Warriors lost their chance at a second consecutive championship title to the Cleveland Cavaliers, fans have been circulating pictures with the faces of LeBron James and Kyrie Irving superimposed onto Curry family photographs.
One image being shared on social media is a doctored photo from Curry's wedding day in which the face of a crying Michael Jordan is posted on top of Steph's face. Another is a Curry family photo in which the face of Cavaliers point guard Kyrie Irving is pasted over Steph.
Curry's wife, Ayesha, is fed up and outraged by the disrespect basketball fans are showing toward her family and spoke directly to the offenders in a message on Twitter.
"It's the inappropriate photoshopped pictures that are insulting to both me and the others families, husbands, fathers, wives in them," she tweeted. "I could care less about 'L's' keep sending them. At this point you guys are insulting both sides with the inappropriate photos."
Ayesha is used to defending herself and her family, and frequently responds to the negative messages she reads on social media from people who claim she is only successful because her husband plays in the NBA.
In an interview with ESPNW, the entrepreneur explained why she takes it upon herself to speak out.
"It's weird because I feel like I'm still spending time fighting off the naysayers who think I only have these opportunities because of Stephen," Ayesha said. "While I'm clearly aware that he has helped me get through the door, I have to walk through that door and I feel like I have the talent to be here. So it has been fun to prove people wrong."
One example of Ayesha in action came last month when a commenter on social media questioned her lifestyle brand that showcases her recipes and parenting advice.
"Inspiring women to be the best wives/cooks they can be eh? Or make a profit of their 'husband's' success," one person questioned Ayesha on Instagram after she announced her pop up restaurant. "Is this the most that you can achieve with your fame? Women around the world should strive to be more than just 'great' mothers/cooks..tailor your marketing and partnerships to inspire the next generation of doctors, lawyers, professors, public leaders, etc.."
Ayesha responded to the post: "My passion is cooking and food, I make people feel happy and comforted through creating delicious and exciting meals. Not sure why you're so bitter but I am an entrepreneur in every sense of the word. You can continue to make assumptions while I continue working in silence and let the work speak for itself."