Baby Jesus Replaced With A Sausage Roll In Offensive Christmas Advert In The UK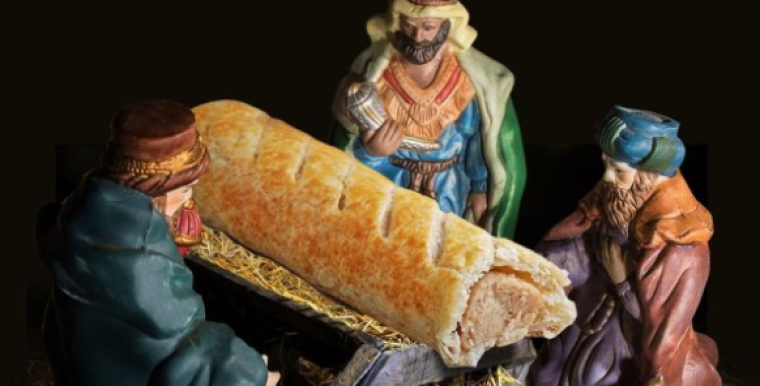 The image of Jesus Christ deserves to be revered and respected, but not everybody does so. This year, British bakery chain Greggs is facing a backlash after releasing an advent calendar which replaced the baby Jesus in the manger with a sausage roll.
It is among many festive pictures featured in the calendar, according to Metro. There are sweet pastries hanging from a Christmas tree, a Greggs shop inside a snow globe, and Santa Claus with flakes on his beard.
There is even what should be a sweet scene from the Nativity. There's only one problem - the image of Jesus is nowhere to be seen, because cradled in the manger and surrounded by the three wise men is a sausage roll.
Instead of making people laugh, as the picture probably intended, people have been hugely offended by the image and have taken to Twitter to express their displeasure.
"Out of interest, do you think the people at Greggs understand that Jesus was Jewish and serving up a pork sausage roll in the manger is unbelievably inappropriate?" said Beth Rosenberg.
"I'm no prude, but equating Jesus, a Jew, to a sausage roll really is deeply offensive on all sorts of levels," James Mather added.
But some saw the funny side of the slip.
"This is appalling... this is outrageous... as a Jew I strongly... ooh, Greggs sausage roll," jested food writer Jay Rayner.
"I don't know any Christians who are upset about Greggs' sausage roll baby Jesus. I think people are more upset by unhealthy dietary options being promoted," said another.
For its part, Greggs issued an apology over the image and clarified that it "did not mean to cause offense." A spokesperson told The Sun: "We're really sorry to have caused any offence, this was never our intention."