Baghdad Bombing Kills 64, Leaves 'Puddles of Blood' in Mass ISIS Attack on Iraqi Capital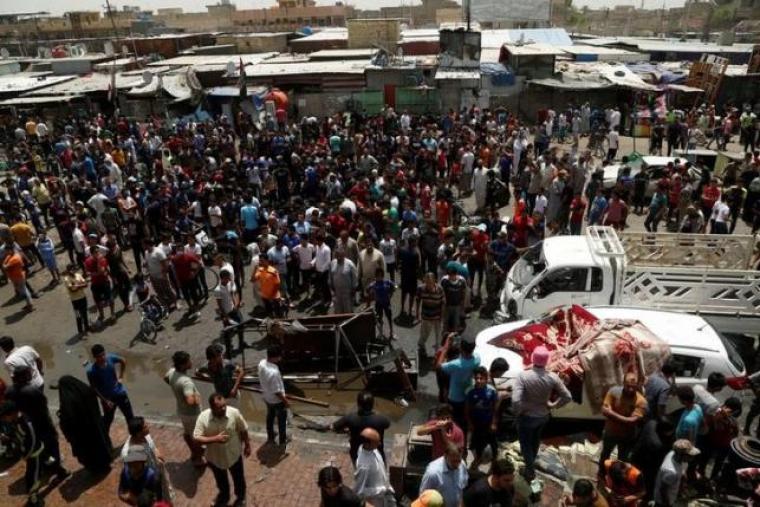 At least 64 people are dead and 87 others injured following a major car bomb explosion at a crowded market in Baghdad, with the Islamic State terror group claiming responsibility for one of the worst attacks on the Iraqi capital in years.
The Associated Press noted that IS, which has captured cities across Iraq and Syria, targeted Shiite Muslims, which it considers heretics. Iraqi police said many of the victims were women and children.
The car bombing took place at the outdoor market in the eastern Sadr City district, with close to 2.5 million people living in or near the slum.
"It was such a thunderous explosion that jolted the ground," 45-year-old grocer Karim Salih said.
"The force of the explosion threw me for yards away and I lost consciousness for a few minutes," he added, sharing that he suffered no injuries, but two of his workers were wounded.
The streets were reportedly stained with red blood from the victims, while a number of nearby buildings were heavily damaged. Ambulances rushed to the scene shortly after the explosion, though officials fear the death toll may rise.
Reuters noted that rescue workers had to step though "puddles of blood" to put out fires and save victims, with several shops ablaze.
Some of the victims were women who were at a beauty salon getting ready for their weddings, alongside grooms in another shop.
"The bodies of two men said to be grooms were found in an adjacent barber shop. Wigs, shoes and children's toys were scattered on the ground outside. At least two cars were destroyed in the explosion, their parts scattered far from the blast site," the report described.
CNN reported that IS has taken responsibility for the attack, continuing its string of bombings on the Iraqi capital. In April the extremists carried out another bombing east of Baghdad, where more than two dozen people were killed.
Hussein Abdullah, a 28-year old owner of an electrical appliances store who suffered shrapnel wounds, told AP that the central government is not doing enough to protect civilians from such attacks.
"Politicians are fighting each other in parliament and government while the people are being killed every day," Abdullah said.
"If they can't protect us, then they have to let us do the job," he added.
The death toll from the war on IS continues to be high month after month, the United Nations warned, with at least 741 Iraqis killed in April — while as many as 1,119 died in March.
IS, the radical Sunni group, has been pushed back by a U.S.-led campaign of airstrikes from certain regions in the country, but the extremists are still able to carry out bomb attacks on areas outside of their control.