Baltimore Mom Goes Viral for Smacking Son to Stop Him From Rioting; Police Commissioner Applauds Efforts; 'Wishes' More Parents 'Took Charge' of Their Kids During the Mayhem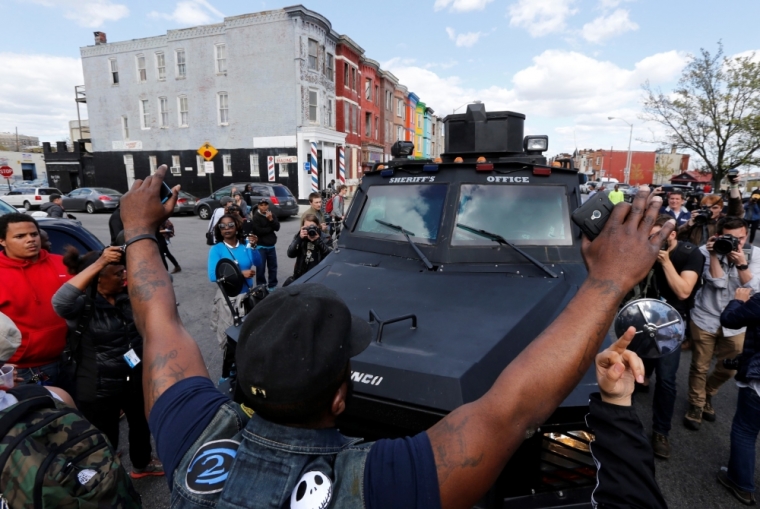 Baltimore mother Toya Graham is being heralded as "mom of the year" by the city's police commisioner after she was captured on camera grabbing and smacking her 16-year-old son in order to get him away from Baltimore protests that erupted on Monday after the funeral of Freddie Gray, a young man who died in police custody on April 19.
Baltimore Police Commissioner Anthony Batts went on television and publicly thanked and applauded Graham for her actions.
"These are Baltimore youthful residents, a number of them came right out of the local high schools there on the other side of Mondawmin and started engaging in this. I think these were youth coming out of high school and they thought it was cute to throw cinder blocks at the police department and address it that way. And if you saw in one scene you had one mother who grabbed their child who had a hood on his head and she started smacking him on the head because she was so embarrassed," Batts said. "I wish I had more parents that took charge of their kids out there tonight."
Graham's encounter with her son, Michael, was captured by the media and went viral, with over 3 million views on YouTube; she was praised for her actions during a chaotic period that saw 235 persons arrested for rioting and 20 police officers injured.
When Graham saw her son throwing rocks at police, she said he "gave me eye contact. And at that point, you know, not even thinking about cameras or anything like that. That's my only son and at the end of the day, I don't want him to be a Freddie Gray," Graham told CBS, referencing the 25-year-old who suffered fatal spinal injuries while in police custody, and whose death set off the protests in the city.
Graham, a mother of six, felt the need to do everything she could to prevent her son from being hurt, arrested, or worse, during the riots. And she has a reputation for being a no-nonsense mother, which she explained is why Michael tried to run away from her at first. But she kept on and got her son back home, which Michael's sister said is a blessing.
"She knows her son and picked him out. Even with the mask on, she knew," Tameka Brown told CNN. "She has always been tough and knows where we are at."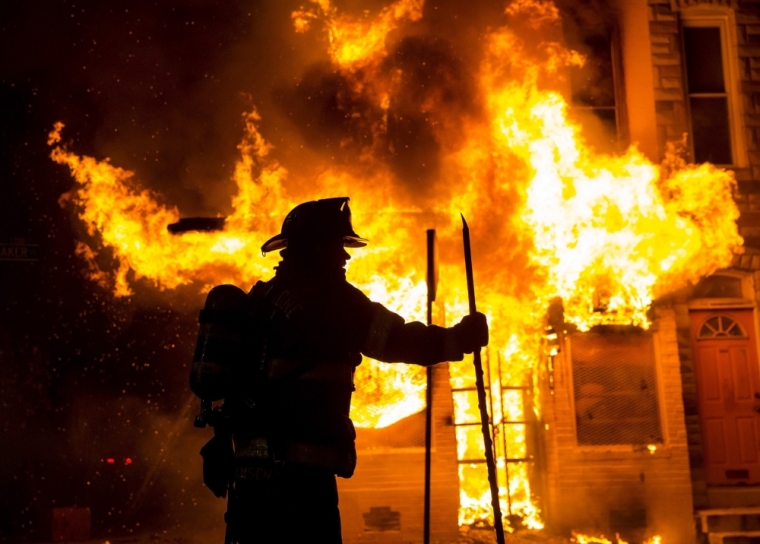 With the cases of Trayvon Martin and Michael Brown fresh in her memory, Graham said that she wants nothing more than to keep her children safe, even if that means being unpopular.
"There are some days I'll shield him in the house just so he won't go outside," she told CBS. "And I know I can't do that for the rest of my life. He's 16 years old, you know. We don't know where those mothers are at, a lot of mothers have to provide for their children. You can talk blue in your face to your children, but at the end of the day they gonna make their own decisions. As parents we just have to follow through to make sure that's where they supposed to be at."
Watch Graham protect her son here.